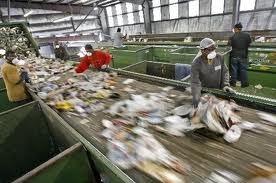 SOFIA : The fresh sanctions imposed by the Bulgarian Government on the recycling companies have evoked widespread criticism and protests. The Bulgarian Industrial Association (BIA) has gone to the extent of writing an open letter to the President and other government officials to voice their protest.
The new law insists that the companies with office buildings must either enter into a contract with a licensed recycling firm in recycling their wastes or depend on the municipal recycling system wherever the number of inhabitants exceeds 5000. The law in enforced with effect from 2013 onwards. The fines charged for not complying with the law can be as high as Euro 5000.
The BIA highlights that there exists practical difficulties in implementing the law in all regions of the country. A large number of small to medium sized companies operating in the market will face the heat. The smaller players may be compelled to quit business. Moreover it may discourage foreign potential investors from setting up new business in the country.
The law as such has no clarity, as per BIA. It may lead to corruption and malpractices. BIA has requested the Government to re-look the new sanctions taking into consideration, the worse economic situation prevailing in the country.
Source:http://www.scrapmonster.com/news/bulgarian-recycling-industry-pitted-against-the-newly-imposed-sanctions/1/8084