In Asia, PET prices saw increases on the back of the higher upstream markets as per the pricing service of ChemOrbis. Feedstock costs including PTA, PX and MEG, indicate increases when compared to early July levels and this situation strengthens sellers' hands on lifting up their prices.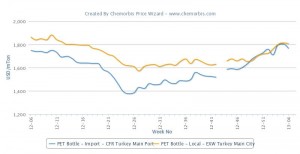 Spot PTA and PX costs recorded increases of $30/ton and $20/ton, respectively, from early July levels while spot MEG jumped $120/ton during the same period. Meanwhile, initial August MEG contracts in Asia were nominated with $25-40/ton increases from July.
Production issues also caused feedstock prices to gain ground in the region. China's Chongqing Pengwei Petrochemical is planning to keep its 900,000 tons/year PTA plant closed until the end of August. The company reportedly shut its plant on June 28 due to maintenance and will not restart the facility until the end of August owing to poor operating margins.
Export PET prices were $20-30/ton higher during last week on FOB China basis. Meanwhile, FOB South Korea based prices followed a stable to $10/ton firmer trend. PET prices are likely to maintain their firmness when considering the bullish feedstock markets while theoretical production cost calculations, based on spot PTA and MEG prices, still suggest that Chinese producers are running their plants with negative margins although their offer levels have recently increased.
A Chinese producer commented, "A different Far Eastern producer informed us that they lifted their prices by $40/ton during this past week on the back of the stronger feedstock costs and improved demand they see from China, Thailand, Philippines and Indonesia. We also see relatively better demand after the recent increases, since buyers were prompted to purchase due to higher crude and feedstock costs."
A different Chinese producer noted, "We issued $30-40/ton increases on our prices given the stronger upstream costs and our tight supplies. Last week's higher prices were in accordance with our expectations and we think that prices will remain firm this week, too."
A trader reported receiving higher prices from their supplier, "Therefore, we raised our prices accordingly. Prices are likely to remain firm over the short term when considering the bullish feedstock costs. At the moment, we receive a normal number of inquiries from buyers and we are currently in negotiations for concluding deals," he further added.
Looking at China's local market, PET prices climbed up CNY200/ton ($33/ton) on both ends of the price range according to ChemOrbis. A bottle manufacturer said, "We replenished our stocks as we think that prices will continue to increase over the short term." A distributor also confirmed that buyers were more actively searching the market during this past week as they were expecting to see firmer prices in the days ahead.