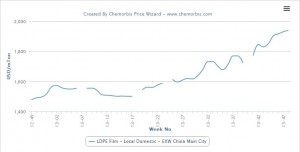 More than a month after local PE prices in China breached their highest levels for the past three to four years, prices are continuing to firm up as stock levels remain limited and plastic futures prices are trending higher. Although prices have been rising since the end of April, players comment that the market has not yet reached its peak, with one player stating that the fact that producers are still lifting their prices so close to the end of the month indicates that they are comfortable with their stock levels and are not struggling to meet their monthly sales quotas.
According to data from ChemOrbis Price Index, the most dramatic increases continue to take place in the LDPE market, which has faced steeper supply woes than HDPE and LLDPE and has consequently recorded larger hikes. LDPE prices on an EXW China basis have skyrocketed by $440/ton since the final week of April to reach their highest levels since 2008.
LLDPE film prices have also recorded strong increases, rising by a total of $265/ton since hitting their lowest point of 2013 in late April. HDPE film prices, meanwhile, have risen by around $100/ton over the same time period, with the comparatively modest rise in HDPE prices being attributed to relatively more comfortable supplies for this product.
A distributor in Shanghai said that they received offers from a domestic producer with increases of CNY150/ton ($25/ton) for LDPE and CNY100/ton ($16/ton) for HDPE week over week. "Local PE prices witnessed further increases this week in line with stronger LLDPE futures prices and limited supply," the distributor commented. LLDPE futures prices on the Dalian Commodity Exchange have risen by CNY175/ton ($29/ton) since the start of the week. A distributor based in Zhejiang said, "Local PE prices have not reached their peak as futures prices are trending higher and producers are taking a firm stance on their offers."
According to ChemOrbis, a distributor based in Linyi reported receiving increases of CNY100/ton ($16/ton) for both LDPE and LLDPE from their local supplier. "We raised our own offers in accordance with our suppliers' price hikes. Prices are likely to remain firm over the near term and do not appear to have reached their peak yet."
A source at a Southeast Asian producer, who reported raising their allocations to China for December owing to better demand that country than in their home market, commented, "LDPE prices are likely to stay firm in the coming weeks. A regional producer recently restarted their LDPE plant, but their operating rates remain slower than normal. Demand is still strong in China and buyers started placing requests for January shipment offers after we sold out December allocations."