Tokyo, Japan, July 29, 2013 – Toho Tenax Co., Ltd., the core company of the Teijin Group's carbon fibers and composites business, announced today the establishment of Toho Tenax Singapore Pte. Ltd. in Singapore to strengthen group business operations in India and the ASEAN region, where the demand for carbon fiber is expected to increase rapidly.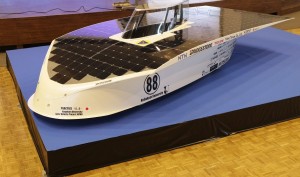 Having absorbed the existing local office that was established in 2010 to conduct research to identify demand and provide customer services in India, Singapore, Thailand, Vietnam and Oceania, the new company will serve as Toho Tenax's base for developing business and sales expansion in these promising markets.
"Market development in India, the ASEAN region and Oceania is a high priority for our growth," said Jun Suzuki, president of Toho Tenax. "We are actively pursuing collaborations with local companies, aiming to quickly strengthen our presence in these fast-growing markets. The new company has an important role to play in this process."
The demand in Asia for carbon fiber is expected to rise rapidly, especially for industrial applications such as pressure vessels, wind turbine generators and casings for home electronics.
About the Teijin Group
Teijin (TSE 3401) is a technology-driven global group offering advanced solutions in the areas of sustainable transportation, information and electronics, safety and protection, environment and energy, and healthcare. Its main fields of operation are high-performance fibers such as aramid, carbon fibers & composites, healthcare, films, resin & plastic processing, polyester fibers, products converting and IT.
The group has some 150 companies and around 17,000 employees spread out over 20 countries worldwide. It posted consolidated sales of JPY745.7 billion (USD 7.4 billion) and total assets of JPY 762.4 billion (USD7.6 billion) in the fiscal year ending March 31, 2013. Please visit www.teijin.com.