As part of its 60th anniversary celebration, OYSTAR Hassia invited the OYSTAR Group to its "OYSTAR Packaging Days" in-house exhibition. CEO Markus Ehl was on site to present the current performance results of the group in the Dairy and Food segment.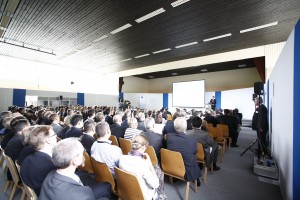 Ranstadt, 15 May 2013. OYSTAR Group has a number of successful companies in the Dairy and Food segment: OYSTAR Hassia, OYSTAR A+F, OYSTAR Benhil, OYSTAR Erca, OYSTAR Gasti, and OYSTAR Hamba. Altogether, these six companies increased incoming orders by 16% last year compared to the previous year to generate revenues of around EUR 200 million. The company had a sales staff of 90 and around 120 service technicians at work with customers; around the globe there are more than 8,000 OYSTAR machines in operation.
"With numbers like these, we've gotten off to a very successful start in 2013," stated Ehl to sum things up. "Our first quarter wasn't merely a repeat of the success we had last year, but an improvement." For example, incoming orders for new machines in the Dairy and Food segment were up 20% relative to the previous year's period. The re-start up of production at OYSTAR Gasti and OYSTAR Hamba in September 2012 also contributed to this performance. "Incoming orders at these two sites is already extremely healthy," explained Ehl. OYSTAR A+F also reported a positive change. After a longer period of stagnating sales, the company has been growing more strongly than the group since the start of 2013.
Ehl further emphasized that newly developed machines in the medium to low performance segment are the ones that have done best on the market. For example, the Multipack 3000 wrapping machine presented at interpack 2011 has already reported eleven buyers and the M-F 14 compact FFS machine has ten. In addition to Europe, the markets in Northern Africa and the Middle East are performing very well at present. On top of that, the OYSTAR Group has been getting more and more requests from North America over the last several months, a region that was fairly hesitant to invest in 2012.
The OYSTAR Group is constantly working on new machinery innovations to keep up the successful performance in the Dairy and Food segment. CEO Markus Ehl announced, "We'll have a number of exciting product developments in spring 2014 thanks to our very well-filled development pipeline!"
About OYSTAR Group
OYSTAR. The Packaging Group is one of the world's leading suppliers of packaging machinery, technology and services. OYSTAR has extensive know-how in the key industries of dairy products and food, as well as pharmaceuticals and cosmetics. Based in Stutensee near Karlsruhe, Germany, the holding company currently represents 10 manufacturing companies in Europe and Asia as well as numerous sales and service companies. At present OYSTAR Holding employs a workforce of approximately 1,400 worldwide and generated a total order value of approximately EUR 280 million in 2012.www.oystar-group.com