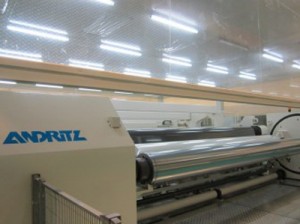 Andritz announced that it has successfully started up the 5.1m wide biaxially-oriented polyethylene terephthalate (BOPET) thin film line supplied to Zhuoli Jiaozou Stamping, one of the first Chinese enterprises specialized in producing hot-stamping material and Thermal Transfer Ribbon (TTR).
The new Andritz Biax BOPET line has a line speed of up to 330m/min. The line runs at a stable speed with good film quality on the winder within only a few hours after start-up, according to the company. Mr. Li, Project Director of Zhuoli Jiaozou Stamping, says, "The start-up of the line reached our expectations by far."
Andritz Biax, based in Austria, is one of the world's leading suppliers of technology and equipment for the production of biaxially oriented plastic films.
Source:  www.adsalecprj.com/Publicity/MarketNews/lang-eng/article-67007125/Article.aspx