At K 2013, ELMET will emphasize its role as an internationally active full-system supplier for the entire field of injection molding two-component liquid silicone rubber (LSR). One highlight will be the company's new generation TOP 3000 two-component metering systems, which are now available in a front-loading (TOP 3000 F) or side-loading (TOP 3000 S) version to make optimum use of manufacturing space. Special options are opened up by two new mold concepts. One is intended for making UV-curing 2-component LSR products, the other supports precision molding of ultra-small items measuring less than 2mm and weighing under 1 mg at dimensional tolerances in the region of 10 μm.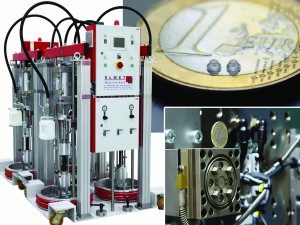 In its ongoing improvement of the TOP 3000 system for 20-liter and 200-liter drums, which has been proving its merits in everyday service for close to 10 years now, ELMET has been listening mainly to suggestions received directly from operators. The fully redesigned control system provides much enhanced operating convenience. Moreover, production data can now be documented in an ISO/TS 16949 compliant format.
The relevant information is extracted via an USB interface. An optional LAN port allows the new-generation TOP 3000 to be integrated into the customer's process management system. Since two metering units can be run in tandem to supply one or two injection molding machines, production disruptions during a drum change are eliminated.
Despite all innovations, existing customers will still obtain a familiar system as the basic operating and display structures have been largely retained. Thus, the manufacturer has made the system still easier to handle in day-to-day service, creating the conditions for an even more cost-efficient operation.
With a new mold for UV-curing LSR, ELMET overcomes the drawbacks formerly associated with processing 2-component thermoplastics and liquid silicone rubber. Since the curing reaction with these materials is triggered by cold light sources instead of high temperatures, there is no need to rely on high-melting (and hence, costly) thermoplastics any longer. Moreover, the use of rugged LED lamps helps to extend the mold life. They also permit an accurate control of the starting point and duration of the vulcanizing process and hence, can help minimize the energy input.
In conjunction with an appropriate ELMET metering system, such 2-component applications can be run on conventional thermoplastic injection molding machines. At K 2013, ELMET will be exhibiting the new generation TOP 3000 metering system at its own stand E49-7 in hall 12. Moreover, a specially adapted metering solution will be shown in operation at Momentive Performance Materials (stand G45, hall 08a) in combination with the new mold for 2-component UV-curing LSR.