Sacmi Verona labelling solutions are also achieving outstanding success in the extra-beverage sector. Confirmation of this comes from two major international orders for two companies that are key international players in their respective fields.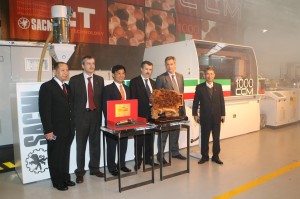 The first, an OPERA 200 RF 15 T labeller, was purchased by a famous American brand in the coffee sector. Their chosen solution allows wrap-around oriented polypropylene (OPP) labels to be applied on HDPE containers.
Equipped – like all its "cousins" in the OPERA series – with innovative roll fed technology that allows labels to be applied directly from the roll of film, this advanced labeller has also attracted the attention of Philippine company Del Monte. This renowned multinational food business has chosen the OPERA 200 RF 18 T for the application of OPP labels on metal cans; heat-shrinking inside a special hot air tunnel shrinks the plastic film by up to 5%. A particularly innovative solution, then, which was tested successfully on the customer's premises in record time.
These orders confirm Sacmi Verona's dynamism in seeking out further market shares in the extra-beverage sector. Outstanding final testing results and excellent levels of customer satisfaction have provided the company with further encouragement to continue in this direction. Since 2009 Sacmi Verona has been part of the Sacmi Packaging Division, which brings together all the Sacmi Group's labelling, filling, preform, container and closure manufacturing skills according to a unified production and sales logic.