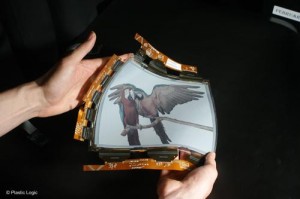 A flexible color display developed for an e-reader for use in Russian schools was demonstrated at Plastic Logic's Technology Open Day last month in the company's Russian center. The big news is that this flexible plastic display, developed by a company known for its leading research in plastic transistors, is now available in full color.
The previous generation display is 16-bit grayscale with a resolution of 150 dpi. This version is currently used in the Plastic Logic 100, an academic e-reader the company developed that's being tested in Russian schools.
The new display, like the previous generation, has a 10.7-inch diagonal screen, and is as thin as a sheet of paper at 0.8mm, or 800 microns. It displays 4,096 colors with a resolution of 112 dpi, and weighs 40gm. Its low resolution is explained by the fact that color is achieved by adding a filter on top of the grayscale screen.
Plastic Logic's flexible displays are remarkably robust: They can be cut with scissors or stomped with a boot and still tick. (Watch videos showing these demonstrations here and here.) Their stated life is five years, including 10 million page updates, or e-reader page changes. The displays are also easy to read in sunlight.
The screen technology is all plastic, based on organic thin-film transistors (OTFTs), and the main structure of the backplane is made of PET (polyethylene terephthalate), said Peter Fischer, vice president of process engineering, in an interview. PET is a widely-used polyester material that's also present in most plastic water bottles. On top of that are the OTFTs, made of other plastics.
The backplane is then laminated to E Ink's frontplane, harnessing its electronic ink technology. Due to both the E Ink display and Plastic Logic's transistors, the display is also extremely low power, since it only draws power when the screen makes an update, said Fischer.
Flexible circuits have been around for several years. Electronic components are mounted on, or printed on, flexible plastic substrates, usually made of PEEK (polyether ether ketone), an organic thermoplastic, polyimide, or transparent conductive polyester film. They've been used in watches, cameras, cellphones, and several small and/or portable consumer devices, as well as automotive and aerospace applications.
Applications for flexible color plastic screen technology of various sizes may go beyond e-reader displays. For example, Plastic Logic is investigating industrial and commercial possibilities such as conformable signage or conformal screens in medical applications, said Fischer. The screens' daylight readability in bright and dim light would be a benefit in both of those applications, as well as in mobile electronics.
The company also makes other displays that are not flexible, and is working on several other applications for its OTFT backplane technology.
Source : http://www.designnews.com