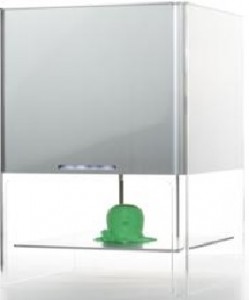 Pirate3D has revealed its zen-inspired and ultra-minimalistic designed 3D printer, the Buccaneer. This flagship 3D printer has no buttons. The front facade has a monolithic aluminum face with a single indicator light, encased within a polished acrylic housing. In addition, it connects wirelessly to mobile computing devices like smartphones or webpads.
Pirate3D says it went against traditional spool-design and introduced the revolutionary central-feeding cartridge. The company's patent-pending design is a top-loading cartridge with central-feeding so that it is easy to handle and load/unload for printing. The device also incorporates a filter in the rear which greatly minimizes odours from the printing process.
"To provide an insanely great user experience, we have to remove the tyranny of unsightly spool, protruding filaments and difficulties in consumables installation," explains Roger Chang, CEO of Pirate3D. "We studied various existing 3D printer configurations, user interaction, handling of the spool and filament and we received horrendous feedback!"
The Buccaneer has a small footprint of 25cm by 25cm, but the 3D printer boasts a 150mm by 100mm by 120mm print area. It uses the Fused Filament Fabrication (FFF) process, which is similar to other consumer 3D printers on the market.
Source: http://www.adsalecprj.com/Publicity/MarketNews/lang-eng/article-67004613/Article.aspx