ALPHARETTA, Ga., February 11, 2014 – Advanced Sensor Technologies Inc., Orange, Calif., has switched from polyetherimide (PEI) to Radel® polyphenylsulfone (PPSU) resin from Solvay Specialty Polymers for production of its high-performance industrial sensor housings.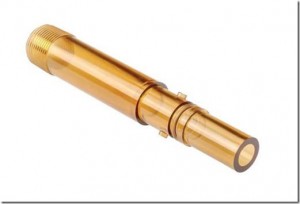 The switch to Radel® PPSU provides an improved combination of chemical resistance, mechanical strength, and thermal performance to meet the harsh operating conditions found in process control measurement and monitoring applications in chemical manufacturing, healthcare, environmental control, mining, pulp and paper, and wastewater, as well as food and dairy industries. Another key application is bioprocessing equipment for the pharmaceutical industry.
Radel® PPSU offers a higher heat deflection temperature and as a result a higher service-use temperature (135°C/275°F) than PEI. It also has excellent mechanical properties, particularly in high-pressure environments, and provides strong resistance to most acids, alkalis, organic chemicals (particularly solvents), and bases. The switch to Radel® PPSU also enables Advanced Sensor Technologies to penetrate sensor applications which measure pH and oxidation reduction potential (ORP), and those that require steam cleaning.
"Our decision to replace PEI with Radel® PPSU has elevated the performance of our products and delivered higher yields and more cost-competitive manufacturing," explained Martin Patko, president of Advanced Sensor Technologies.
Radel® PPSU's high thermal stability provides color consistency during processing, unlike PEI which ages and changes color, according to Patko. The superior color consistency permits the frequent regrind of gates, runners, and other post-process scrap. PPSU's mechanical strength enables the injection molding of longer sensor housings without the risk of flexing and damage to the interior of the part.
The high-performance thermoplastic can also handle a range of secondary operations including machining and offers improved surface finish and reduced tooling abrasion.Advanced Sensor Technologies also plans to utilize Radel® PPSU for new sensor products that require even higher mechanical strength such as those that incorporate high-precision fittings made of stainless steel.
Radel® PPSU is a super-tough thermoplastic with high heat resistance, exceptional hydrolytic stability, and excellent chemical resistance. It can withstand over 1000 cycles of steam sterilization without significant loss of properties. Radel® PPSU is also compliant with ISO 10993-1 for limited exposure, non-implantable applications.
Solvay Specialty Polymers is a global leader in the development of sulfone polymer technology, having launched Udel® polysulfone nearly 45 years ago.
About Advanced Sensor Technologies Inc.
Located in Orange, Calif., Advanced Sensor Technologies Inc. is a leading manufacturer of durable and long-lasting industrial pH sensors, ORP sensors, ion selective sensors, and conductivity sensors for demanding inline process control measurement and monitoring uses in the chemical, mining, pulp and paper, wastewater, and food and dairy industries. More information is available at (714) 978-2837 or www.astisensor.com
About Solvay Specialty Polymers
Solvay Specialty Polymers manufactures over 1500 products across 35 brands of high-performance polymers – fluoropolymers, fluoroelastomers, fluorinated fluids, semi-aromatic polyamides, sulfone polymers, aromatic ultra polymers, high-barrier polymers
and cross-linked high-performance compounds – for use in Aerospace, Alternative Energy, Automotive, Healthcare, Membranes, Oil and Gas, Packaging, Plumbing, Semiconductors, Wire and Cable, and other industries. Learn more at www.solvay.com.