Ulma Packaging will be launching a new packaging concept for poultry as well as showcasing its impressive range of packaging machinery and fully automated line solutions aimed at its key markets of bakery, meat and poultry at the forthcoming NEC based Foodex exhibition.Ulma will be using the exhibition as a platform to unveil an exciting packaging machinery concept that is destined to be a brand leader and set the standard for the future.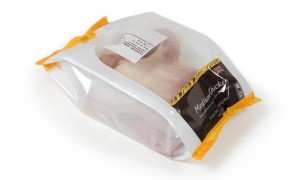 On the biggest stand Ulma has ever deployed at a UK exhibition, the company's sales team will be promoting the Artic horizontal flow wrapper, state-of-the-art equipment suitable for a range of food, from cook-in-the-bag chicken to developing possibilities in meat. The Artic will be using polyester film to make a totally hermetic sealed pillow pack and comes with complete modified atmosphere (MAP) for extended shelf life.
Also, samples of ULMA's new format of 4 side seal packs in 'straight to oven packaging' will be available on the stand.In addition to the Artic, will be the Atlanta flow wrapper for high speed biscuit packing which will include a demonstration of Ulma's D12H robots.
Completing the line-up are the TFS 407 ''SKIN'' hygienic thermoforming equipment that can use a range of technical films for attractive shelf display of products such as Fish, Meat, poultry etc.The new generation TS 1000 traysealing machine for high speed MAP packing of meat & poultry products and the VTC 700 high speed vertical wrapper, a packaging machine capable of speeds of up to 150 cycles/min & capable in intermittent or continuous mode.
Ulma's Managing Director, Chris Pickles, said: "We are pleased to be revealing a new packaging concept at Foodex and look forward to a successful show. Visitors will see the strength of innovation from Ulma in thermoforming, flow wrapping and automated in-line equipment.
"Ulma's totally integrated packaging and automated line applications will be clearly demonstrated, on the stand, with flow wrap and auto crate loading just some of the standard solutions available."
The company's technical team will be on hand to discuss the new 'straight to oven' format that is to be unveiled on stand H349, H351 and the other high quality equipment that Ulma will have on display, providing further details of the biggest range of packaging solution choices available anywhere in the UK.
Flow wrapping and thermoforming technology is continually evolving. Visitors to Ulma's stand at the Foodex show will be able to see for themselves why the company is leading the way for innovative, efficient and robust packaging equipment.
Read more..Ulma Packaging