Positive result for interplastica 2014 – Increasing importance of energy efficiency and recycling
The CIS market for plastic and rubber products stands for solid business and positive prospects. Despite the dampening effect of political vagaries and the current weakness of the rouble on the demand for plastic and rubber products, the country still has a significant need for investment. Production capacities are being modernized and expanded, particularly in the packaging and medical technology segment.The consumer goods and automotive segments are growing steadily, and the infrastructure of the largest European country with a population of 143 million is facing major challenges. In this situation, innovative solutions for all areas of the plastics and rubber processing industry are very much in demand, particularly because issues such as energy efficiency and recycling are becoming increasingly important.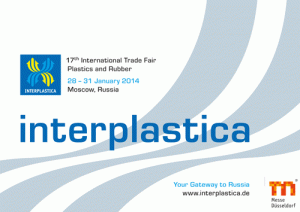 Accordingly, exhibitors at interplastica 2014 gave a predominantly positive feedback on the four-day international trade fair for plastics and rubber. They reported a keen interest among specialist visitors, promising customer contacts and several signed contracts. Between 28 and 31 January 2014, 20,000 visitors from all members of the CIS attended interplastica and the packaging fair UPAKOVKA/UPAK ITALIA, both of which took place at the same time in Moscow. This result ties in with the one achieved by both trade fairs in the previous year.
Erhard Wienkamp, Division Director of Messe Düsseldorf, was delighted with this positive result: "Thanks to its representative international portfolio, interplastica is perceived and valued as an outstanding platform for technological innovation in Russia. This positive feedback and the fact that there was even a slight increase in the demand for exhibition space – only a few weeks after the flagship fair K 2013 – underlines the importance of this event. The companies know how important their market presence is. Even in turbulent times, they rely on interplastica to present their innovations to  customers from the CIS market, to maintain their customer contacts and to initiate new relations. Introducing a clearer structure to the fair, the new hall distribution elicited predominantly positive feedback from visitors and exhibitors."
Organised by Messe Düsseldorf and its subsidiary OOO Messe Düsseldorf Moskau, the 17th interplastica was again hosted at Moscow's trade fair grounds of Krasnya Presnya. A total of 687 exhibitors from 28 countries presented their products and services on 13,500 sqm net exhibition area, the "Forum" as well as exhibition halls 1 and 8 and, for the first time, hall 3 were fully booked, the latter by a cluster of extrusion and injection moulding machinery manufacturers.   Official national participations came from China, Germany, France, Italy, Austria and Portugal. The largest contingencies of exhibitors came from Russia, Germany and China.
Germany remains to be number one among the most important suppliers to the Russian plastics and rubber processing industry, exporting a total of 32.2 % to this segment, followed by Italy (15.5 %) and China (13.9 %). In the first eleven months of 2013, German exports in this segment amounted to EUR 204 million, up 10,2 % on the result posted for the same period during the previous year. Between 2011 and 2012, global exports from plastics and rubber machinery manufacturers to Russia increased by 7.5%, corresponding to an overall value of about EUR 640 million.
For Bernd Nötel from the German Association for Plastics and Rubber Machinery within the VDMA (Verband Deutscher Maschinen- und Anlagenbau – German Engineering Federation), the Russian market remains promising, despite the dampening effect of political vagaries and the current weakness of the rouble on the demand for plastic and rubber machinery: "Negotiations drag on, some projects are postponed. In other areas however, there is still a great willingness to invest, contracts that were prepared at K 2013 in Düsseldorf for example, are now being signed.
Business is going strong in the injection moulding and thermoforming segments, and rubber processing machines are in high demand. Thanks to state funding, investments into plastic pipe production and into the production of insulation material are rising. The emergence of recycling as an important issue in Russia is rated as a positive development. So far, this development is still in its infancy, but there is a growing awareness that even countries with an abundance of natural resources must economize."
Dr. Rüdiger Baunemann, Director General PlasticsEurope Deutschland e.V., recognizes a lot of potential in the raw material segment, both for polymer producers as well as for suppliers of additives such as stabilizers and flame retardants. At interplastica's "Meeting Point Raw Materials", Dr. Baunemann's presentations on resource and energy efficiency as a driving force for innovation and sustainability attracted a lot of attention and met with keen interest. For the second time at interplastica, open seminars for exhibitors on new developments in raw material production and application were again conducted in cooperation with the Russian plastics portal Plastinfo.ru.
The exhibitors were impressed with the high level of professionalism among interplastica's visitors, who appeared to be well prepared and approached the exhibitors with practical inquiries. In turn, visitors were delighted with the wide range of international exhibits presented at interplastica.
The next interplastica will take place in Moscow from 27 until 30 January, 2015, as usual in tandem with UPAKOVKA/UPAK ITALIA. More information at www.interplastica.de and at Messe Düsseldorf GmbH, Stefan Koschke, Phone: 0211/4560-7768, Email: [email protected], and Claudia Wolfgram, Phone: 0211/4560-7712, Email [email protected] 
12 February, 2014 
Press Contact:
Eva Rugenstein/Kristian Schütt
Phone: +49-211-4560 240
Fax: +49-211-4560 8548
Email: [email protected]
Email: Schü[email protected]
Voucher copy appreciated
Exibitors' comments on interplastica 2014:
Victor Nemera, CJSC ATLANT, Baranovichi/Belorussia
We participate regularly in interplastica, know what we want and usually get it. It satisfies our expectations.  It's important to note that this year there are more professional visitors than in previous years. It's obviously very good.
Grishin Maxim, Country Representative A/O Bayer Polycarbonates, Moscow/Russia
At interplastica 2014 we basically met with our old, established partners. This exhibition is well known in the plastic and rubber industry and every year we meet with lots of customers and get in contact with new customers. 
Sebastian Schneider, Key-Account-Manager PM Rezyklate, DKR –Deutsche Gesellschaft für Kreislaufwirtschaft und Rohstoffe mbH, Cologne/Germany
As we are new to the Russian market, it presents some challenges, one of which is the language barrier. Also, recycled products do not have a good reputation in Russia, mainly because very few such products are available in high quality. But appreciation for regrinds is growing in the CIS states along with the interest in high-quality recycled products.  At interplastica, we had some interesting new contacts, and the prospects for long-term business cooperations seem positive. However, we are well aware that this market requires a lot of patience.
Dragan Visekruna, Director of the Plastics Sales Units in Central and Eastern Europe, Greece and Turkey, Dow Europe GmbH, Moscow/Russia
Dow took part with an own booth in interplastica 2014 for the first time ever.We consider that the exhibition is very successful. The customers appreciated our desire to participate in the exhibition highly. Our approach is to work in co-operation with distributors. In the previous years we joined the booths of our partners and this year we invited them to work on our own booth.
Robert F. Binder, Area Sales Manager, EREMA, Ansfelden/Austria
Our equipment has met with a keen interest. As a supplier of recycling systems for all thermoplastic materials, we have been active in Russia for sixteen years. So far, our core business focused on in-house recycling of waste scrap directly at the processing company's site. Recently however, the post-consumer market seems to have become more active as the population demands recycling regulations. This development could open up a major market for us! We are optimistic about the future development of our business relations with the CIS states, because we have consolidated our position and won the trust of our customers in that market – not only because of our training programmes and cooperation with research institutes but also because of our tenacity.
Rauf Rustamov, Sales & Marketing Director, Mikrosan, Gebze-Kocaeli/Turkey
We have been exporting pipe and profile extrusion machinery and pelletizers to Russia since 1991. With more than 1,000 machines installed in that country, we have become established as a major player in this segment. We expect to continue our business in Russia successfully. The Russian economy will continue to grow, the Olympic Games and the World Cup 2018 will trigger further growth. There is a lot to do and enough money for investment, particularly in window construction, in the infrastructure of this vast country and in centralized heating. These projects are supported by state funding. We participate in interplastica because we want to promote our good reputation, maintain our existing customer contacts and make new ones. 
Ulrich Reifenhäuser, Managing Director Reifenhäuser GmbH & Co. KG, Troisdorf/Germany
The CIS market continues to have a lot of potential for the plastics processing industry. The exhibition was livelier and the visitors even more professional than expected. But the currency problem is a real dampener, particularly as the Russian mentality seems to have a bias towards pessimism when confronted with such problems. Therefore, some projects will likely be delayed.
Alexei Stolyarov, Chief Expert, Department of Advertising, Exhibition Activities and Branding, LLC Sibur/Sibur Holding OJSJ, Moscow/Russia
We have long and fruitful cooperation and ties with Messe Düsseldorf Moscow. We are always satisfied by the attentive attitude and professionalism of the organizers' team.. Next year we plan to expand our stand area and to occupy the central part of the first pavilion. We had active and large work with our clients during interplastica and it's time to expand and reveal.
Antonio Cappadono, General Director Transtechnika-Vostok – Representation of Arburg, Moscow/Russia
While the Russian market is characterized by steady ups and downs, it offers excellent long-term prospects. We have been active in this market for a long time and have become well established – reliability and comprehensive service are the key to success! For me, the current weakness of the rouble does not constitute a major problem, but an opportunity: the export of finished products such as packaging has become more expensive, hence domestic products will be in demand. Arburg customers from the packaging segment are enjoying full order books. The Russian automotive and medical technology segments are also experiencing an upturn, and they are now investing in modern, efficient machinery. 
Dr. Semen Chlesberg, Senior Sales Manager, Zeppelin Systems, Friedrichshafen/Germany
Moving into the CIS market requires money and patience. In the long-term however, this commitment will bear fruit. Twelve years ago, Zeppelin started its activities in that region, initially with one sales agency. Only recently, we set up our own subsidiary there, so as to provide a localized services and spare parts supply and support for our sales team. As a leading global plant engineering company for the handling of high-quality bulk materials and liquids we work in a wide variety of industry sectors, i.e. polymer producers and processors, the rubber and tire industry and plastic cable sheathing. We also operate a separate division with a special focus on the food segment. We provide our customers, mainly major corporations, with a complete service package from the delivery of complete lines right through to training. This will consolidate our long-term success even if this market is prone to ups and downs.