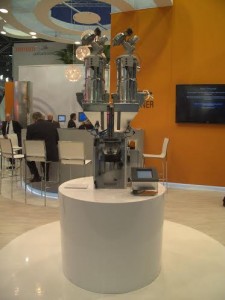 Chinaplas 2014 motan-Colortronic Press Release:The motan group is a leading global provider of peripheral units and systems for the handling of bulk solids. It is a well-known multinational firm with over 60 years history, and the headquarter located in German. motan with the highest quality, scientific design and best service were accepted unanimously by high-end customers. Sales and service network around the world.
Chinese headquarters – Taicang motan-colortronic plastics machinery co., Ltd was founded in January 2006, with two brands Motan and Colortronic. The purpose of the company is through localised production and service to provide high quality equipment and integrated solutions to Chinese customers. The main products include: dry air dryers, vacuum hopper loaders, central conveying systems, volumetric & gravimetric mixing unit and loss-in weight feeders.
At the 2014 Chinaplas exhibition, motan-colortronic will exhibit the whole solution of plastics processing auxiliary equipment and has designed the booth to simulate an actual example of plastics processing. The focus of motan-colortronic at the exhibition is four major products areas: First is including drying, compressed airs dryers and dry air dryers. Second is conveying systems; automatic central conveying systems can reduce customers' cost, improve productivity and competitiveness.
motan-colortronic will additionally exhibit SilentLine at the exhibition, consisting of sound insulated double walled piping and sound insulated frequency regulated blowers. Third are dosing and mixing systems; such as the ULTRABLEND 95 launched at this exhibition which is a gravimetric dosing and mixing unit for the medical industry. Last are control systems, supervising all the material processing to ensure quality products.
Contact:
Joy ZHU
Taicang motan-colortronic Plastics Machinery Co., Ltd
18 Xingye South Road, Taicang Economic Development Area, Taicang, Jiangsu Province, China 215413
Tel. +86 512-5357 8771
[email protected]
www.motan-colortronic.com