Inaugural Report Identifies Copperico and Oceanana as Leading Color Options for Consumer and Industrial Plastic Designs
ANAHEIM, Calif., February 11, 2014 – Oceanana (indigo like) and Copperico (copper like) have emerged as the leading color choices for the design of plastic products for the consumer and industrial markets, according to Plastics Color Corp.'s First Annual Color Report released today at the 2014 Medical Design and Manufacturing (MD&M) West exhibition Feb. 11-13 in Anaheim, Calif. PCC, a leading supplier of color concentrates and additive masterbatches for the plastics industry, has issued the annual color report to give customers a competitive edge in identifying current color trends and ultimately facilitate the product development cycle.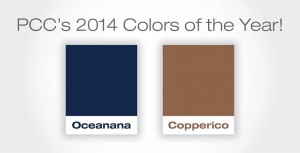 "Our goal with the Color Report is to help designers in the initial concept stage so they can develop the right product in the right color and get it to the shelf faster," said Tim Workman, PCC vice president of business development. "This is a value-driven effort that helps our customers shorten the product development process."
As a leading plastics color specialist, PCC's primary business focus is the manufacturing of colors that fit into its customers' market spaces. "We have extensive information that can aid our customers in getting the right colors into their unique market space quickly," added Workman. The color information will give customers an advantage over the competition by identifying the best color options that will impact the market and spur increased demand for new products in the industrial and consumer space, said Workman. Color selection is an important and often times lengthy process for manufacturers and PCC seeks to simplify the process and arm customers with the most up-to-date market information.
Colors were chosen from market research and data presented at PCC's Color Marketing Group Summit in 2013. The market research data includes trending analysis, company sales information, and industry data from a broad range of markets in which PCC serves. The ongoing color evaluation – now formalized in an annual report – identified a palette of 12 high-profile colors which was pared down to two.
Oceanana can be found from the deepest of oceans to the dark blue skies at dusk and dawn and its deep color is both calming and grounding, according to the report. It is plant-derived and offers a connection with the natural world. "Oceanana (indigo like) is making a resurgence in housewares, clothing, and textiles – becoming not only a bold neutral color but also a focus color," according to Sara Martin, PCC's strategic sales representative.
Meanwhile, Copperico stands for the old and the new and the two worlds that connect together, says the report. It offers a sense of home with its warm color and use in many everyday items. "Copperico (copper like) is surpassing the popularity of the grays of silver and the yellows of gold; the warm tones of this precious metal are slowly penetrating our daily lives," explained Martin.
About Plastics Color Corp.
Plastics Color Corporation (PCC),headquartered in Calumet City, Ill., is a global provider of colorants, compounds, additive masterbatches and custom polymer technologies for an extensive range of markets including pharmaceuticals, medical, consumer goods and others. PCC supports virtually every type of manufacturing process and material. We engage our customers from concept to commercialization and help them develop new cutting-edge products that lead the market. PCC has more than 40 years of experience in the polymer industry and operates fully-equipped product development laboratories and manufacturing facilities in California, Illinois, North Carolina, and Nanjing, China. PCC's Illinois and North Carolina labs are certified by the American Association for Laboratory Accreditation, A2LA. PCC also provides testing and product development services through its Solutions Center in Asheboro, N.C. For more information, call Timothy Workman at (440) 670-8802 or visit www.plasticscolor.com.