SITTARD, The Netherlands, February 12, 2014 – SABIC is coming to Pharmapack Europe 2014 (Paris, February 12-13) to demonstrate its intent to further expand into the healthcare market. On Stand 354, SABIC will introduce two new pharmaceutical grades of polypropylene intended for syringes, other medical dosing application devices and also for packaging for healthcare applications. The two grades, SABIC® PP PCGR40 and a lubricated variant, SABIC® PP PCGR40L, are high-flow random copolymers typically used for producing thin-walled products with high levels of clarity.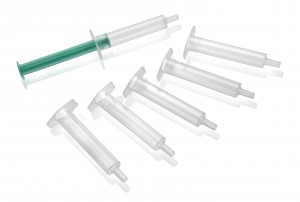 SABIC already offers consistent supply from a broad portfolio of polyolefins and engineering thermoplastics developed and produced specifically for the healthcare market. Its total product and service offering answers the call from companies – producing medical devices and pharmaceutical packaging – for one reliable and strong supplier of healthcare materials.
Our new polypropylene grades support the production of healthcare products that are highly reliable, very safe to use, and economic to produce. The first grade, SABIC® PP PCGR40, is – amongst others – well suited to the production of three-piece syringes, in which an elastomeric seal on the plunger provides the required lubrication. For two-piece syringes the second grade, SABIC® PP PCGR40L, can be considered, since the lubrication is supplied by the plunger itself, providing a high level of dosing accuracy.
The high levels of transparency of both grades are achieved by the inherent clarity of random PP copolymers plus the use of state-of-the-art clarifying technology. Together, they provide an extra level of patient safety, since it is very easy to see the levels of liquid in the syringe, and to ensure there are no bubbles. Both new grades are reactor grades, which results in significantly pure materials.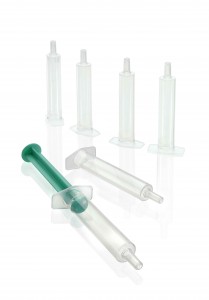 Both new grades have a melt flow rate (MFR) of 40 g/min. This not only enables production of thin-walled medical devices and packaging, it also supports processors to reduce cycle times compared to grades with MFRs of between 30 and 35 g/min that are commonly used within the healthcare industry. This provides advantages for processors in terms of energy consumption, total conversion costs, and overall sustainability – an issue that is increasingly important for healthcare companies.
Molding trials with the new grades were recently carried out on a high-precision 32-cavity Schöttli AG mold by the moldmaker itself. "We are very impressed by the results," says Eberhard Dengler, Product Manager, Medical, at Schöttli AG. "We did some side-by-side tests with syringes molded in some other polypropylene grades intended for the application, and the extra aesthetic quality of the parts made with the SABIC resins was clearly visible to the naked eye. Plus, we were able to run the injection machine faster, enhancing processing performance."
"SABIC is strongly committed to the healthcare market, and we are here for the duration with a secure supply from production facilities around the world," says Marnik Vaes, Technical Marketing Healthcare at SABIC. "We have the materials, the extensive technical experience and know-how, and we have the global presence."
Vaes further points out that the healthcare packaging industry has an increasing demand for safe, high performance flexible materials for packaging pharmaceuticals and medical products. Pouches and sachets, for example, need to not only preserve their precious contents but also ensure safe use by the patient.
SABIC's latest range of polyethylenes for packaging films responds to this rising market need. This range includes SABIC® HDPE PCG5009, SABIC® LLDPE PCG0863F and SABIC® LLDPE PCG6118NE— materials that help our customers to optimize the integrity of packages with high quality seals, ultimately resulting in an assured preservation of medicines and an improved safety of medicine usage. Moreover, these grades are fully tested in accordance with the relevant European Pharmacopoeia (EP) and United States Pharmacopoeia (USP) requirements to ensure they meet the needs of the pharmaceutical industry governing the safety of packaged drug products.
Besides the high manufacturing and control standards used to make these products, SABIC also offers a full service package. This includes an 18 months "notification of change" period as part of the contracts with our healthcare customers. The two new grades are just the latest addition to SABIC's rich plastics portfolio of high-purity solutions that fully comply with the relevant European and US pharmacopoeia requirements. Offerings range from low, linear-low and high density polyethylenes, random- and impact copolymer polypropylenes, through to an extensive range of engineering thermoplastics that include grades based on ABS, polycarbonate, thermoplastic polyesters (PET and PBT), polyphenylene oxide and siloxanes.
SABIC media contact
Solange Schlösser
Polymers and Chemicals
Netherlands
T +31 46 722 2168
E: [email protected]