Despite the anticipated negative impact of raw material price increases in the coming year, food manufacturers should avoid cutting corners for fear of generating more waste and thus potentially increasing costs – according to KM Packaging Services Commercial Director Graham Holding.
A survey by FoodManufacture.co.uk revealed a massive 88% of respondents fear the impact of raw material price increases in the next 12 months, with only 40% so far having been able to pass on these increases to customers. Graham Holding is urging food companies to avoid cutting corners and aim to minimise the impact of such costs without reducing the quality of the foodstuffs or packaging.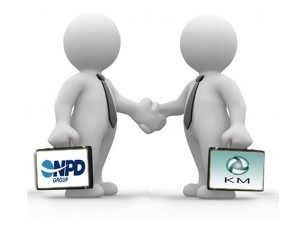 Holding explained: "There's an inherent danger in looking for the lowest cost supplier regardless of their attitude towards quality and performance. These companies are unlikely to have invested so heavily in product development, in-house technical expertise and testing as their competitors, so it could well be a false economy.
"As consumers become more demanding, supermarkets and other retailers are much more likely to select product ranges that have significant on-shelf appeal, so clear and classy packaging is absolutely vital. Similarly, retailers will quickly de-list suppliers whose products don't keep on selling, indicating content issues. And, of course, poor quality packaging benefits no-one – a leaky ready meal or joint of meat results in more waste, loss to the manufacturer, reputation damage for the range and retailer – and frustration for the consumer."
Another recent survey by Mintel, of nearly 1500 adult consumers, showed that up to 25% of grocery budget is now spent on high-end gourmet foods such as artisan chocolates or exotic ingredients – a trend which is spilling over into other mainstream purchases such as bakery and ready meals.
Holding is convinced that a good hard look at less obvious cost bases is the ideal way to mitigate against raw material price increases. That may mean working more closely with partners such as packaging suppliers to develop new, more appropriate and cost effective solutions. Some manufacturers have dispensed entirely with a cardboard sleeve or large label and are making the most of printed lidding film to provide purchasers with the necessary information whilst improving visual appeal. This not only reduces packaging material but also removes at least one process from the production line, improving efficiency.
Thankfully companies are still committed to NPD: according to Foodmanufacture.co.uk 62% of respondents claimed they would be spending more on product development in the coming year than previously, despite being sure that their customers were more focused on the price of the product rather than the quality.
Graham Holding concluded: "It's reassuring that manufacturers are still committed to new product development; now all we have to do is ensure that all members of the chain link up more effectively, combining our R&D and technical skills in order to come up with the solutions that the market demands. Retailers may be very focused on price but, believe me, they want top quality too. It's up to us all to overcome the market challenges and give retailers – and thus consumers – the right product at the right price, at the right time."
KM Packaging has an international reputation for product development, constantly launching innovative, high-performance new packaging products that help to revolutionise the food packaging industry. For more information contact +44 (0) 1832 274944, email[email protected] or visit www.kmpack.co.uk.