German production equipment makers present their know-how to customers on the occasion of the battery trade show CIBF
The VDMA industry group Battery Production took advantage of the China International Battery Fair CIBF to gather their members and Chinese customers in the course of a networking dinner at the Ritz Carlton Hotel Shenzhen (south China). With 100 participants, the first event of this kind was highly appreciated, especially by the Chinese guests. "That was a huge success," says Peter Haan, Head of Business Development OEM/Battery Production at the Industry Automation Division of Siemens AG and chairman of the steering committee of VDMA Battery Production. "It was our intention to show Chinese customers that the German production equipment industry is able to deliver more than just single process steps – we work together along the entire process chain and can cover the entire process comprehensively."
Company presentations as networking kick-off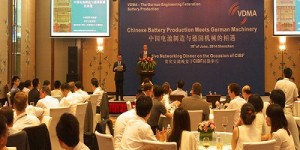 "We got the idea realizing that German battery machine makers and system integrators are strongly export oriented in the same way as the whole machinery industry. Some companies successfully sell their battery production solutions in overseas markets already today", says Haan. "Therefore we have invited our members to show their expertise on this event in short company presentations. The highlight here: All presentations were given in Chinese only", explains Dr. Eric Maiser, director of VDMA Battery Production. "It became top notch thanks to the Chinese moderation by Billy Yu from the VDMA Shanghai office." This resulted in a very informative and enjoyable presentation of thirteen companies, and provided perfect topics of conversation for the dinner afterwards.
VDMA and companies show China presence and technology know-how
"The VDMA offices in Frankfurt and Shanghai did a brilliant job and our companies contributed excellently to make it a big success", Haan compliments. "The customers clearly realized how the Germans are positioned at their home sites, which battery expertise they have and that all of them are represented in China and committed to this market."
With this new event format, VDMA introduced itself as one-stop shop for members in China and for Chinese customers. On the show floor of CIBF the German battery machine makers and system integrators showcased their products  in the framework of an official German pavilion which had been carried out for the first time in 2014 upon VDMA's application. "We will certainly continue this program at the next CIBF 2016. With this year's performance we have truly set a standard", stresses Haan.
The VDMA Industry Group Battery Production is an interdisciplinary activity under the roof of the VDMA Forum E-Motive where end users, producers, equipment makers and researchers work together. The Forum E-MOTIVE is the central contact for all activities regarding electromobility within VDMA and it reveals the key position of the engineering industry for the development of tomorrow's electromobility. VDMA Battery Production has been founded in 2011 and focusses on high-power enery storage systems for stationary and mobile use.
Due to synergies with electronics and photovoltaics the VDMA Productronics Association (Electronics Production) is heading the industry group Battery Production. Fifteen different sector associations and six regional representations of VDMA are integrated in the industry group and with the special know-how of their members they help to the maximize synergy effects.
The German Engineering Federation (VDMA) represents more than 3,100 companies in the engineering industry, many of which are small and medium sized enterprises. With about 986.000 employees (2013) all over Germany and a sales turnover of 206 billion Euros (2013) the industry is the biggest employer and one of the leading sectors of the German industry as a whole.
More Information:- prod.vdma.org/battprod