• Quadrant's certified thermoplastic materials  and solutions fill gap in aviation supply chain for high-quality      products   & services
• Explore Quadrant's comprehensive portfolio at Farnborough International Airshow 2014 (Hall 4 / G1)
Quadrant Engineering Plastic Products (EPP), the global leader of machinable plastics , announces the successful completion of AS9100C certification for its Belgium and UK locations serving the global aerospace industry. This significant achievement makes Quadrant the first manufacturer to offer AS9100C compliant engineering plastic stock shapes, further strengthening its long-term support for customers in this sector.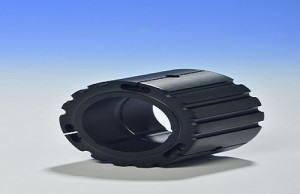 AS9100C is the recent update to the widely-adopted and standardized quality management system for the aerospace industry – EN 9100. The international standard specifies the requirements for a quality management system of organizations that design , develop, produce, market or distribute products for the aerospace industry.
Certification of Quadrant's site and Technical Center in Tielt, Belgium, and its UK Todmorden location is the latest milestone in Quadrant's commitment to meet the sector's increasing need for reliable quality management from its global supply chain. Quadrant develops and supplies stock shapes and machined parts from the qualified facilities. Its AS9100C registration includes design & development,
manufacturing, machining, warehousing, sales, marketing and distribution of engineering plastics and components for aviation, space and defense applications.
"Major aerospace OEMs are globalizing their supply chain to address the projected increased demand in aircraft production. The industry is expected to double their output over the next 12 years," comments Frank Johänning, Global Market Manager Transportation & Aerospace at Quadrant EPP.
"AS9100C compliancy gives Quadrant a formal qualification for meeting aerospace industry quality requirements worldwide, even within a more complex supply chain. It is a real milestone in supplying to the industry and helping our customers to be better prepared for the future."
Quadrant offers the largest portfolio of engineered and high performance thermoplastics for the aerospace industry. Well recognized materials  like Duratron®, Fluorosint®, Ketron® or Techtron® are the base for applications such as handles, grommets, brackets, fasteners, seals, connectors and wear parts used in hydraulics, engines and nacelles, air frame and wings, and within aircraft interiors. These products address requirements such as flame retardancy and performance under extreme temperatures, light weight, high strength to withstand shock loads, and chemical resistance. Quadrant has been supplying engineering plastic solutions to the aerospace industry since 1965.
Technical and development teams work together with customers to find the best solution to particular functionality and processing challenges, for example, developing a one-part complete solution to replace multiple parts and reduce complexity. This commitment reflects Quadrant's dedicated way of working for key market segments and its strategy to offer high-quality products and support to its customers. In addition to AS9100C compliance, the company's quality standards include ISO 9001 certification, the highly-regarded ISO 13485 accreditation for the machining and sales of plastics parts and medical components, and NORSOK M-710 compliance for PEEK stock shapes.
Quadrant will be showcasing its comprehensive products and solutions for the aerospace industry at the Farnborough International Airshow, July 14 – 20, 2014, Booth Hall 4/G1.
About Quadrant EPP
Quadrant Engineering Plastic Products (Quadrant EPP) is the world's leading manufacturer of semi-finished products. Quadrant EPP's materials range from UHMW polyethylene, nylon and acetal to ultra-high performance polymers that resist temperatures to over 425°C. The company's rods, sheets, tubes and custom shapes are used to machine parts for the food processing and packaging sectors, semiconductor manufacturing, aerospace, electronics, chemical processing, life sciences, energy and diverse industrial equipment. Quadrant EPP also manufactures finished products for these industries. Products and services are available through a worldwide network of branch offices, technical support centres and authorized dealers.
About the Quadrant group
Quadrant is a leading global manufacturer of high-performance thermoplastic materials in the form of semi- finished products and finished parts. The company has locations in 20 countries and more than 2 000 employees. Its specialty engineering thermoplastics and composites are superior in performance to metals and other materials and are used in a wide range of applications, primarily in the capital goods industry.
Together with leaders in a broad variety of customer markets, Quadrant is continuously developing new areas of application. With its new owner Mitsubishi Plastics, Inc., Quadrant is well prepared to expand its market leadership position in the future.
More Information:-  www.quadrantplastics.com