The City of Vancouver is examining whether to ban, restrict or apply deposit fees to things like plastic bags, coffee cups and styrofoam food boxes that keep ending up in city litter bins.
According to a city report delivered on Wednesday, the issue isn't garbage generated at home — recycling programs have mostly taken care of that — but a large amount of this stuff is ending up in city bins set up in public areas.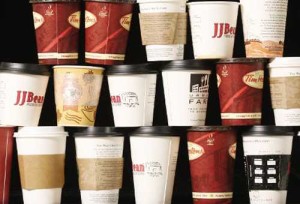 "Reducing their distribution at the point of sale, if possible, is preferable from a waste management and environmental protection perspective," staff said in the report.
In a statement, the city said the challenge of dealing with these three items has proven difficult in other North American cities.
"As part of the implementation of a comprehensive litter management strategy, staff will begin exploring regulatory options to address the use and recycling of single use items, including options to apply deposit fees, restrict or ban the use of these products or mandate the recycling of these items through take back programs," staff said.
Albert Shamess, waste management and resource recovery director with the city, told council the city is also currently limited in its authority to implement a ban, but that this could be possible if changes were made to the Vancouver Charter.
Coun. Adriane Carr said that often many in the city don't even bother using garbage bins to dispose of their coffee cups and other related litter.
"More often than not they're not in the trash, they're littered all over the ground around the trash cans," she said.
"Plastic bags … they're flying all through the air, they're caught in birds' gullets, they get into the ocean and the plastics are causing an incredible amount of death — wildlife, fish and marine mammals, it's a real cause of concern … we absolutely need to move in this direction."
Website:                                         www.vancouver.24hrs.ca