Atlas Converting Equipment Ltd. announced that a new Titan SR800 slitter rewinder was added to the existing fleet of slitter rewinders operating within TC Transcontinental Packaging, a division of Canada-based TC Transcontinental.
The reliability and operational performance of Titan slitter rewinders, plus the compatibility of accessories and the ability to consolidate the new machine into the existing Titan maintenance scheduling was seen as a real benefit to the operations team, according to the UK machinery supplier.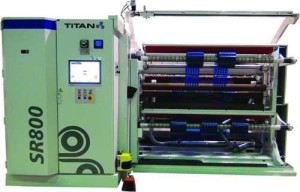 Jeff Lasley, General Manager for TC Transcontinental Packaging, said, "The reliability and performance of our existing Titan fleet of slitter rewinders plus the service and support we get from Atlas Converting made the choice of the Titan SR800 easy for us. Our operators are already familiar with the operation of Titan machines and the new machine can be integrated into our existing maintenance schedule. This allows us to get the SR800 up to operational production in the shortest time in order to meet our high expectations."
As with all slitting and rewinding processes, the biggest challenge and risk to the final quality of the rewound package is in controlling the tension of the web. The Titan SR800 features Titans, "Differential Winding System" and "S" wrap roller drive ensures constant rewind tension.
Utilizing "ball locks", the differential winding system provides constant tension irrespective of what different slit widths are being rewound onto the same shaft. Another key feature is the adoption of AC digital servo motors and controls which drive the web through and the "S" wrap roller drive ensuring precise web tension control.
The "S" wrap drive isolates the tension between unwind and rewind sections of the machine, reducing fluctuations in tension and deliver optimum operation of the slitting knives.
"The North American packaging market has always been an important market for both Atlas & Titan Slitter Rewinders," commented Barrie Homewood, Sales & Marketing Director for Titan. "Our ongoing commitment to continual product development and customer support allow our customers to expand and grow their businesses with the confidence that they can rely on us to support on them at every step"
Website:                                             www.adsalecprj.com