RPC Market Rasen (Market Rasen, Lincolnshire, UK) has finished the commissioning of a new WITTMANN BATTENFELD EcoPower 300 injection molding machine. The RPC Market Rasen factory will be using the machine to make a number of products in RPC's packaging and packaging-related markets.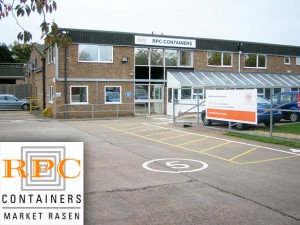 The WITTMANN Group has long been a supplier to RPC site and also to the Superfos business, recently purchased by RPC. WITTMANN BATTENFELD UK has to date principally supplied automation, in-mold labeling (IML) and robotics expertise to the RPC Group. This is RPC Market Rasen's first WITTMANN BATTENFELD EcoPower injection molding machine. It is a high-speed, fast cycling machine with 300 tons of clamping force.
Since its launch, the EcoPower has steadily increased its international market share on the basis of compact design and large energy savings for the contract molding community. Market feedback thus far suggests that these energy savings typically repay the owner at least 50% of the capital purchase price over the course of the machine lifetime. The EcoPower deploys a Kinetic Energy Recovery System (KERS) to achieve these savings. Derived from technology successfully developed on the Formula 1 racing circuit, KERS uses the braking force in the EcoPower to store energy in an intermediate circuit and to assist in the heating of the injection barrel.
WITTMANN BATTENFELD UK Managing Director Barry Hill points out that RPC Market Rasen's EcoPower includes a servo-hydraulic system fitted as standard. "The hydraulic drive for ejector, nozzle and core pulls gives the molder options. Having it integrated into the machine frame saves on the overall machine footprint and makes for an extremely energy efficient system."
The EcoPower's UNILOG B6 control with Windows XP™ embedded also makes for a very user-friendly setup and operation and also facilitates connectivity and internet-based interfaces and operations. In common with all WITTMANN Group equipment, the EcoPower tells its user how much energy it is using at any given time. The machine has a beltless injection unit and is also fitted with WITTMANN's all-in-one framework in order to allow easy addition of ancillary equipment such as automation and materials handling equipment.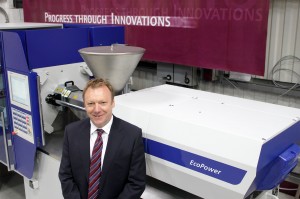 WITTMANN worldwide is one of the leading manufacturers of robots and peripheral equipment for the plastics industry. The WITTMANN group with Headquarters in Vienna/Austria is a worldwide operating company with 7 production facilities and 20 branch offices in all major plastics markets in the world. WITTMANN's product range includes robots and automation systems, automatic material handling with dryers and plastic recycling, temperature controllers and chillers for machine tools and volumetric and gravimetric blenders.
With this comprehensive range of peripheral equipment, WITTMANN can provide processors of plastics with total solutions which cover all their requirements, ranging from autonomous work cells with single zone temperature controllers, screenless granulators, sprue pickers, integrated vacuum loading systems and integrated cross-linked control systems with integrated material loading and dryers to automated robotic systems for flexible finishing of semi-finished injection molded parts.
On April 1st, 2008 WITTMANN took over the BATTENFELD Kunststoffmaschinen GmbH at Kottingbrunn (Lower Austria). There will continue to be independent growth in the market for auxiliary equipment on one hand and for injection molding machines by BATTENFELD on the other. However, the syndication will lead to connectivity between both product lines, providing the advantage plastics processors have been looking for in terms of a seamless combination of processing machines, automation and auxiliary equipment – all occurring at a progressive rate.