Engel Austria, together with its system partners Liquidmetal Technologies and Materion Corporation, organized the Engel Deutschland Technologieforum Stuttgart with a focus on its Liquidmetal process.
Over 200 guests attended the forum, held in Engel's Stuttgart, Germany subsidiary for two days in mid-January. Besides plastics processors, metal processors also took the opportunity to get to know the new technology.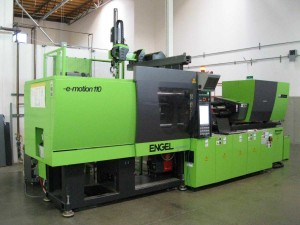 As a sample component, small flags with a very delicate and complex three-dimensional structure were produced during the forum.
"The number of registrations far exceeded our expectations," said Claus Wilde, Managing Director at Engel Deutschland and Head of the Technologieforum Stuttgart, who opened the event.
The name Liquidmetal stands for a group of zirconium-based alloys that have been developed by the US-based Liquidmetal Technologies. Engel is the only supplier in the world offering machinery and system solutions for the injection molding of these materials. A third partner is Materion Corporation, the material producer and distributor that based also in the US.
"Thanks to their amorphous, non-crystalline structure, components made of Liquidmetal are extremely hard, but at the same time very elastic, which leads to very good recovery behavior," Steffen Mack, Business Development Manager at Materion, explained. "They have low specific weight, are corrosion-resistant and biocompatible."
Being able to be processed in injection molding is a further advantage compared to other metal materials, because this makes particularly efficient, automated and integrated processing methods possible.
"These characteristics are fascinating for anyone who works with plastics or metals," commented Heinz Rasinger, Vice President Engel teletronics. "Now it is all about the question of how we can make the best possible use of these characteristics."
It is not only about substituting the material in an existing product, he said, but rather how the components can be designed in a new way "that can take full advantage of the potential of the material".
The companies believed that there will be a broad field of applications for Liquidmetal, from medical technology to electronics, automotive to aerospace and even sports equipment.
"Liquidmetal offers great potential in particular for components subject to strong mechanical strain with high demands on component design and surface quality," explained Christoph Lhota, Vice President Engel medical, citing an example of the long and sometimes very delicate instruments for keyhole surgery.
Further application examples that were discussed at the forum include functional components for electrical devices and decoration elements for automotive interiors. "For some products, the discussions led to some very promising approaches," revealed Rasinger. "We will be starting the first projects shortly."
A particularly interesting issue is the combinability of Liquidmetal with other metals or plastics in a multi-component process.
"At our technology center in California, we have already fabricated sample multi-component parts with Liquidmetal and another metal," said Thomas Steipp, CEO at Liquidmetal Technologies. "Until now, this has been executed as a transfer procedure, but an integrated process is also conceivable."
The company's technology center now has its ISO 9001:2008 certification and is manufacturing parts for customers.
"It is not necessary for those who would like to get started with the new technology to first invest in a manufacturing cell of their own," Steipp explained. "We are prepared to supply prototype and production parts now from our Manufacturing Center of Excellence in California. Additionally, it is our goal to also establish contract manufacturing capacities in Europe."
Apple and Swatch are among those who already got the first licenses from Liquidmetal Technologies.
Website:                                                  www.adsalecprj.com