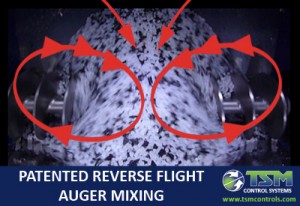 New Auxiliary Equipment / TSM Control Systems is now offering plastics producers new ways to weather the economic storm and improve their profit margins. New TSM technology focuses on combining standard processing requirements; accurate dosing and homogeneous material mixing, with a third critical component when processing regrind and flake materials: material head pressure.
This new downforce amplifier developed and patented by TSM offers further downward head pressure to the existing cramming action created by the patented reverse flight auger which TSM offer on each of its batch blender range. The downforce amplifier ensures that material throughput and hence production speed can be maximized when processing difficult regrind materials.
TSM understands the problems facing many customers with difficult regrind materials, and this latest development will not only improve material flow and mixing characteristics but also enables higher percentage regrind processing while eliminating material throat blockages.
"Plastics processers are constantly looking to push the boundaries of the materials that they can efficiently process, using more difficult materials which may be cheaper and more plentiful."
This patented technological advance allows the processing of even the most difficult flake regrinds by being able to cram materials into the throat of the extruder eliminating variations in flow due to bulk density variations.
"We have recognized the need for better processing capabilities for difficult regrind materials amongst plastics processors. Our new downforce amplifier combined with our patented mixing technique will give our customers unique processing ability and ultimately a competitive advantage in today's market place."
TSM now have a unique solution for difficult regrind materials combining their new downforce amplifier with their existing patented reverse flight auger mixer, guaranteeing homogenous mixing, regardless of regrind percentages, material density or material geometry while cramming mixed material into the throat of the extruder.