With an extensive machine line and focus on customers' increased productivity, Romi will display its latest manufacturing solutions for the most varied market segments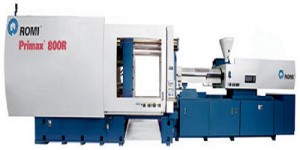 New machining equipment with greater capacity, power, and versatility. Those are the machines that Indústrias Romi S.A. will display at the 14th International Machine Tools and Integrated Manufacturing Systems, – Feimafe 2013 – which will be held from June 3 to 8 at the Parque Anhembi Exhibition Hall, in São Paulo, Brazil.
Romi – Brazil's leader in the manufacture and development of technological solutions for the Machine Tools, Plastic Processing Machine market as well as a major Rough and Machined Castings supplier – will display the following new releases:
ROMI GL 400 Turning Center. With a 30 hp motor, this new machine is capable of turning parts up to Ø 400 mm and 1,000 mm in length. The GL turning center line has been designed to operate in medium and high production environments, with great efficiency and productivity;

ROMI VTL 700MR Vertical Turning Center. With a 46 hp motor, this new machine is capable of plate turning parts up to Ø 700 mm; it also allows milling, drilling and tapping operations, providing increased productivity;

New 828D CNC for the Lightweight Centur line
"We worked hard to surprise our visitors at Feimafe 2013. They will be able to know our efforts in expanding and improving our ROMI GL and ROMI VTL line of Horizontal and Vertical Turning Centers" says Hermes Lago, Romi's Machine Tools business director. Lago also highlights the market's confidence in the Romi brand: "we are a 100% Brazilian company, that has technological innovation, credibility and tradition aspects deep-rooted in our DNA."
Aiming to always bring state-of-the-art and the best suitable technologies to the market, Romi invests heavily in research and development, resulting in robust, reliable and high-precision machines, that are also very efficient and offers great flexibility for the most varied machining operations. These machines offers customers the productivity they need to better compete in today's environment.
In addition to the new releases, Romi will exhibit over 13 machines at the company's booth. Romi will also set aside an area for Burkhardt + Weber (B + W) machines. B+W, acquired by Romi in 2012, is renowned for their high performance, rigid, and ultra-precise machine tools. In addition, other Romi machines will be displayed at the Brasilia Machines, Marposs and Senai booths.
During the show, Romi customers will have access to technical advice from the company's sales team in order for them to get the better machine-tool to better fit their needs. Customers may also apply for Brazilian Development Bank's (BNDES) Finame financing service, with a low interest rate of 0.25% per month. This special financing rate is available only for Brazilian-built machines.
About Romi – Industrias Romi SA, the Brazilian parent company of Romi Machine Tools in Erlanger, KY, acquired BURKHARDT+WEBER Fertigungssysteme GmbH in 2012. Romi is one of the world's largest machine tool builders with an installed base of over 150,000 machines. The company manufactures metal cutting machine tools, and plastic injection molding machinery at its 9-plant, 1.5-million sq. ft. industrial complex in Santa Barbara d'Oeste, Brazil. Romi's captive foundry supplies castings for its own line of machine tools as well as for other customers around the world. The company services US customers from its Erlanger, KY facility.Read More Information :www.romi.com