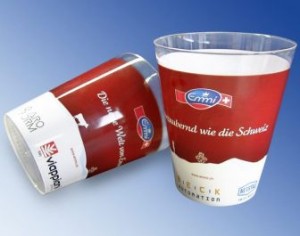 Netstal of the KraussMaffei Group will display the Elion 1750 injection molding machine for thin-wall applications at Plastindia 2012, to be held in New Delhi, India, from February 1-6.
According to the company, an Elion 1750 machine will be seen producing drinking cups with PS from Total Chemicals, at a cycle of less than 3.3s using a four-cavity mold from Glaroform, a Switzerland mold making company.
"Our aim is to steadily reduce the production costs by achieving shortest possible cycle times, a low energy consumption and an optimized product weight," says Markus DalPian, Manager of Netstal's Business Unit PAC.
Netstal adds that in-mold labeling (IML) will be done by a handling unit from Swiss manufacturer Beck, which inserts the labels in the mold and subsequently removes the finished products. The Motan company of Germany supplies the plastic material feeding appliance and Messrs ef-cooling of Switzerland the cooling device.
Source  : www.adsalecprj.com