AniForm Engineering has become a Tier 2 member of the Thermoplastic Composites Research Center (TPRC) consortium.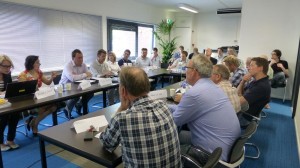 AniForm is a spin-off company from the University of Twente that focuses on software development for composites forming processes. The software code AniForm is a high-end software for draping simulations of thermoplastic composites laminates as well as dry fabrics.
Rene ten Thije, CEO of AniForm, says that the partnership with TPRC provides a platform for joint developments within the value chain directly addressing the requirements from the industry. TPRC and AniForm say that they will jointly invest in further development of testing and modelling tools to improve virtual forming of thermoplastic composites.
AniForm adds that the goal is to provide industry with CAE tools that enable engineers to reliably and predictably design products and processes, which is an important prerequisite for enabling more widespread application of high-end thermoplastic composites.
CAE methods are seen as a key enabler for growing use of thermoplastic composites, especially in high volume industries such as automotive. With the Tier 2 partnership, TPRC and AniForm will now more explicitly and jointly address the required improvements.
Source: www.reinforcedplastics.com/view/35782/tprc-and-aniform-advancing-virtual-forming-of-thermoplastic-composites/