WASHINGTON – SPI: The Plastics Industry Trade Association said more than $7,000 was collected and donatedto the American Red Cross during NPE2015: The International Plastics Showcase. Show visitors, leading plastics companies and SPI donated to the fund earmarked to fight Ebola. NPE2015, a triennial event that attracted nearly 70,000 attendees recently in Orlando, Fla., is owned and produced by SPI.
"Nothing is more rewarding than working with an organization that's on the front lines when a disaster strikes a community or a family," SPI President and CEO William R. Carteaux said. "We were honored that the Red Cross joined us at NPE2015, and we hope to strengthen our relationship with the international organization going forward. SPI staff and members are particularly grateful to the NPE attendees and staff who so generously donated to this worthy cause."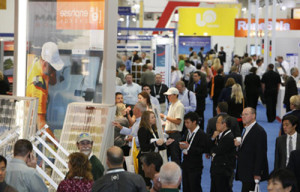 According to officials at Washington-based SPI, the American Red Cross was invited to participate in a large booth set up by the SPI and affiliate Flexible Vinyl Alliance (FVA) and their members. Highlighted in the special booth were dozens of products made from plastic (and specifically vinyl/PVC) that are used in the fight against Ebola. Representatives from the Mid-Florida Region of the American Red Cross were invited to explain their roles and efforts in helping stem the spread of Ebola in Africa, and elsewhere.
Booth sponsors and company representatives from these firms asked visitors and participants to donate to American Red Cross, including donations from the SPI, the Vinyl Institute, the Flexible Vinyl Alliance (FVA) and the Resilient Floor Covering Institute (RFCI) and others.
According to Sylvia Bova, Community Development Officer of the American Red Cross Mid-Florida Region, "We are not only extremely grateful for the generous donation by the SPI, visitors and the plastics industry, but are also most pleased to learn how this industry and its products are used throughout the medical products industry. It was a notable learning experience for everyone who stopped by the booth to donate and learn about our Ebola-related activities."
Website:   www.plasticsindustry.org