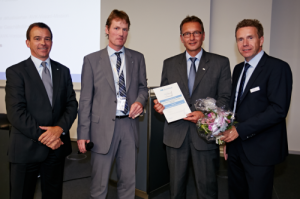 Five member companies of AVK have been awarded the new quality seal for manufacturing composite components using the hand lay-up and spray-up techniques – known as 'open processes'.
The new quality seal was developed by the companies working together in the AVK working party for open processes with the aim of improving the image of both the quality of manufacturing and the manufactured components.
The companies presented with the new quality seal were: GFK-Forming Kunststoffverarbeitung GmbH, LAMILUX Composites GmbH, LAMILUX Heinrich Strunz GmbH, Polyestertechnik Lars Rafalzik GmbH and TDC Technical Duroplastic Constructions GmbH.
Any company using hand lay-up and spray-up processes to manufacture components can apply for the quality seal.
Source:  www.reinforcedplastics.com/view/35780/first-five-companies-awarded-avk-quality-seal/