The Beumer Group has developed a twin-belt turning device as an alternative to the existing clamp-type turning device, offering a more gentle way for palletizing of bags filled with bulk material.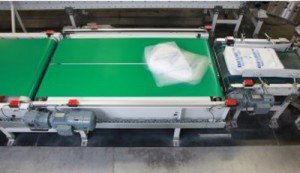 The twin-belt turning device is used with the paletpac high-capacity palletizer. Once the user has set the desired packing pattern, the twin-belt turning device turns the bags defined by the program with the help of two separately driven belts arranged parallel to one another.
The rotation of the bag is initiated by the net weight of the bag and by the different speeds of the belts. The speeds and also the rotation of the bag are adapted to the different bag sizes by a self-optimizing dynamic active control loop. Each belt conveyor is provided with a synchronous servo drive, which is responsible for accelerating and decelerating during the turning process. In this way, the bags are handled more gently than with the clamp-type turning device, explains Beumer. Moreover, system retrofits are not required even if different bag sizes are handled.
The twin-belt turning device also reduces maintenance costs as fewer parts are subjected to wear and tear. The company adds that it saves energy due to the efficient drive technology and the elimination of compressed air. The new module operates at low noise and can be fitted with existing palletizers.
Source:  www.adsalecprj.com/Publicity/MarketNews/lang-eng/article-67007009/Article.aspx