Mangalore, Dec 24: 'CanPlast 2013', a state-level technical seminar organized by Canara Plastic Manufacturers and Traders Association (CPMTA), Mangalore, discussed various issues from solid waste management to plastic recycling on Monday December 23.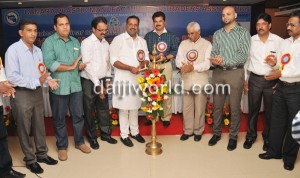 After inaugurating the seminar, health minister U T Khadar said, "Tackling solid waste and recycling plastic is going to be a bigger problem in the future. It is as problematic as the issue of corruption in India. Therefore, there is a need to find a mechanism that efficiently tackles these issues," he said and added that the seminar – which comprises of talks by experts and subjects specialists – should provide a formul to tackle the issue permanently.
Mangalore City Corporation (MCC) commissioner Ajith Kumar Hegde, said, "The traders, especially in the plastic industries should not only be profit-oriented but must inculcate a pro-society attitude. Plastic cannot be banned. The environmentalists and traders have two different perspectives which are formed based on their interests. But what is important is to look for an alternative plan to recycle the solid waste," he opined.
Mohammed Ameen, president, Kanara Chamber of Commerce and Industry (KCCI), said, "Solid waste management is an issue which is forgotten and neglected in our country. And, we need to address the issue come what may."
Ban not enough
Earlier, terming that a ban in itself is not the solution, the health minister said, "Although we have banned the sale of tobacco in Karnataka, it has not stopped. Today, we have seen in the market the same companies selling two separate products which is an alternative to tobacco. Plastic is indispensible in our day-to-day life. However, there is a need to find the right mechanism to recycle it."
Presenting a session on the topic, 'Sustainable Waste Management', Dr H C Sharatchandra, former chairman, Karnataka State Pollution Control Board (KSPCB), said, "The issue needs an institutional approach. Incomplete legislation, lack of monitoring and enforcement, least regard for rules and regulations, financial issues, and lack of human resources have been the issues that are to be addressed." Besides, he surprised the audience saying that apart from the city corporations, it is the local rag pickers and animals (cows) that are a part of the informal waste collection system."
The seminar also discussed the topics titled 'Plastic Waste Management and Recycling Technologies' by Tushar Kanti Bandopadhyaya of Indian Centre for Plastics in the Environment, Mumbai, a talk on 'Plastic Waste to Road Construction', by K Rasool Khan and Sapna of K K Plastic Work Management, Bangalore, and also on 'Innovative MSW Management System' by T Raghavendra Rao of Sustainable Technologies and Environmental Projects, Mumbai.
Source:http://www.daijiworld.com/news/news_disp.asp?n_id=208754