RAJKOT: Lakhs of visitors to the annual Lili Parikrama of Mount Girnar have gone back leaving the Girnar wildlife sanctuary, the abode of Asiatic lion, littered with plastic waste.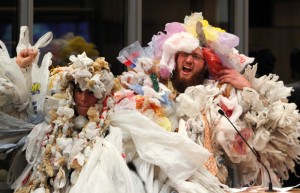 The 36-km long parikrama witnessed over eight lakh people in five days to Mount Girnar that is part of the sanctuary.The forest department is now faced with the uphill task of cleaning up the plastic waste in the sanctuary with the help of volunteers who include a large number of school students.
"We have started a cleaning drive from Sunday. We had distributed pamphlets to generate awareness among visitors on the impact of plastics on environment and had also placed dust bins at regular intervals for people to throw waste into," said P T Kaneriya, range forest officer (north range) at the sanctuary.
"We have already collected 10 tonnes of plastic from containers that had been placed en route but we expect to collect over 35 tonnes over the next few days that is lying scattered," said a forest official.
The plastic waste includes water pouches, wafer packets, water bottles and carry bags.Officials are concerned over the impact of plastic waste on wildlife. Apart from the sanctuary housing Asiatic lion, concern is also being aired about animals like sambar and chinkara that might consume this plastic which may lead to their 'slow death'.Officials said that the plastic waste collected after the parikrama last year was around 25 tonnes and has almost doubled this year.
Times View
Around the world, tourists are banned from carrying any form of plastic into places that are environmentally fragile or of historical value. As the last home of the Asiatic lion, Gir forest deserves to be treated with care. This unique ecosystem can't be allowed to suffocate on plastic. Pilgrims may get upset if a ban on plastic is imposed, but it is a small price to pay compared to the devastation plastic causes in this pristine jungle. The forest department should make alternate arrangements for the pilgrims.
Source: timesofindia.indiatimes.com/home/environment/flora-fauna/Plastic-invades-lions-abode/articleshow/26388094.cms