FRANKFURT, Germany, August 27, 2013 – TOPAS Advanced Polymers' new film extrusion grade of cyclic olefin copolymer (COC) fills an important performance gap by delivering a unique combination of greater heat stability and robust extrusion performance. TOPAS® 7010F-600 is the company's latest film extrusion resin, featuring a glass transition temperature of 110°C and strong extrusion capabilities for multilayer food packaging.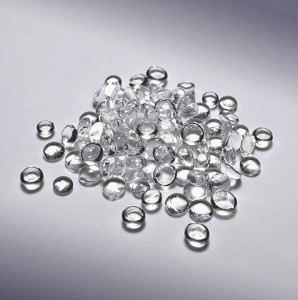 TOPAS Advanced Polymers will feature the new material at K 2013, the 19th International Trade Fair for Plastics and Rubber Worldwide, Oct. 16-23, in Düsseldorf, Germany. The company will showcase its broad line of COC resins in Booth 7A05, which will be shared with its parent company, Polyplastics (Tokyo).
"We've added a new solution for converters and packagers that meets the needs of the market," said Wilfried Hatke, European marketing and sales manager for TOPAS Advanced Polymers. "This material fills a gap in our extrusion portfolio by offering the optimized combination of higher heat stability and strong processing."
In terms of glass transition temperature, the new film grade is positioned between TOPAS 8007 (80°C) and TOPAS 6013 (140°C). It is optimized for robust extrusion performance and offers the same ease of processing as TOPAS 8007F-400. TOPAS 7010F-600 does not require pre-drying and can be run on blown film systems with or without grooved feed extruders at process temperatures of 230°C or above. It can also be processed on thin cast film lines with low haze over a wide process temperature range.
TOPAS 7010F-600 resin is typically used in multilayer structures with polyolefins and barrier resins such as polyamide (PA) and ethylene vinyl alcohol (EVOH). It is used to produce a range of multilayer packaging film applications including metallized film, twist film, hot fill, and shrink labels in thicknesses up to 100 microns. TOPAS 7010F-600 can be processed on conventional extrusion equipment, providing highly transparent and defect-free film. The material complies with U.S. Food & Drug Administration (FDA) food contact regulations, with monomers and additives listed in EU Plastics Regulation 10/2011.
TOPAS COC resins are amorphous polymers that offer high transparency, outstanding moisture barrier, high rigidity and strength, excellent biocompatibility, and good electrical insulation properties. This unique combination of properties has led to TOPAS COC applications in such areas as medical devices, food and pharmaceutical packaging, optics, and electronics.