Huntsman will take part in CHINAPLAS 2014 with two new thermoplastics polyurethane (TPU) grade for injection molding.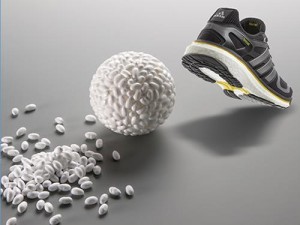 The first new grade, AVALON 95 ABU, is a UV-protected, high performance, polyester-based TPU for injection molding, which offers exceptional long-term UV resistance that is significantly higher than current available offerings, strong abrasion resistance, a fast cycle time and good flex performance even at low temperatures, said Huntsman TPU.
Suitable for sports footwear, this material can also be used to create top pieces and components such as cleats, shanks, counters and decorative parts.
Another new product, AVALON 95 AHT, is a highly transparent, UV-protected, polyester-based TPU for injection molding. Crystal clear and UV stabilized to ensure long term integrity, the company said it is suitable for transparent outsoles, adding that It can also be used to produce see-through components and windows to hold logos and other decorative elements in shoes, boots and trainers.
On April 25, Huntsman TPU will organize a technical seminar. Yi Li, Technical Service Manager APAC at Huntsman, will present on these new innovations.
Stephane Peysson, Global Business Development Manager at Huntsman, says, "China is the biggest market for TPU and we have an exciting few years ahead of us. We have a new state-of-the art production plant at our disposal and a robust R&D program in motion that will see new solutions for core markets coming through steadily. Together these elements will ensure we are perfectly placed to fulfill local customer needs."
Huntsman inaugurated its new TPU plant in Shanghai in February.