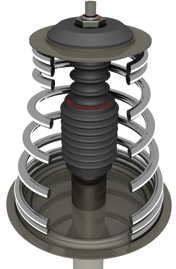 DuPont Performance Polymers (Geneva) has developed an innovative automotive jounce bumper component incorporating a blowmolded thermoplastic elastomer (TPE) to exhibit how design, materials and processing can converge to deliver added performance and lower cost. The featured jounce bumper is part of a vehicle's shock-absorber system designed to absorb impact and dampen noise, vibration and harshness (NVH).
DuPont, working with a team from injection blowmolding machine builder and processor Ossberger (Weissenburg, Germany), capitalized on the flexibility attributes of DuPont Hytrel TPE and a unique Ossberger blowmolding technology to simplify the component from four pieces that require subassembly to a single piece. This alone significantly reduced cost and size and improved performance.
"Materials are critical in component design and the best results happen when the three primary phases in product development—design, materials and processing—converge," said Patrick Cazuc, automotive director Europe, DuPont Performance Polymers.
In developing this component, DuPont worked on design, using non-linear finite element analysis (FEA) techniques and specialist software, as well as processing, including rapid prototyping and laboratory testing at the DuPont European Technical Centre. By using an Ossberger injection blowmolding machine, the thickness profile was tightly controlled, facilitating optimum energy-absorbing properties with a maximum compression ratio.