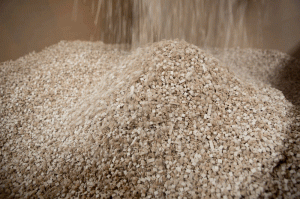 There's a new player in the rapidly emerging field of engineered wood-reinforced plastic compounds for durable goods applications. The Sonae Industria Group, a French wood products company with an office in Quebec, plans to build production capacity for tis WoodForce material in North America and Asia, although no timetable has yet been established.
The company made its North American debut this week with a presence at JEC Americas in Boston, the first-ever JEC Composites show in North America. So far the technology has only been commercialized in Europe, where furniture giant IKEA is showing interest. Bio composites in general are a major theme at the event, with a particularly strong presence from Canadian companies and research groups. "There is an enormous amount of wood fiber capacity in the world; the issue will be where to use it," says Christophe Chambonnet, the global manager of WoodForce who is based in Westmount, Quebec.
Previously the chief sales and marketing officer of Sonae Industria, he was appointed global manager of WoodForce in April. Sonae Indústria licenses the wood-plastic technology from Crown Research Institute Scion under a biofiber research program funded by New Zealand's Ministry of Science and Innovation. Sonae Indústria has the right to negotiate with Scion for other regions except for Australia, New Zealand, Japan and Korea.
Chambonnet said that Sonae Indústria, which processes more than 7 million tons of wood products annually, will not become a plastics compounder. The company will use existing compounders to sell its products. The pitch for wood-reinforcement is that it reduces weight versus glass, and is less expensive. There's also the sustainability argument. He said the cost reduction is significant, but didn't provide specifics.
According to Chambonnet, WoodForce provides 80-90% of the mechanical properties of glass, except for impact properties where wood reinforcement falls short. "We don't claim to have the exact properties of glass fiber, but we are very close." Potential applications for the natural fiber reinforcement technology include pallets, furniture, automotive parts, appliance housings, and computer peripherals.
One interesting aspect of WoodForce is that it is diced from compressed board so that the particles "roll" like plastic pellets for easier dosing. The competition in the wood-plastic composites in durable applications such as automotive is getting intense, and the market is developing slowly. The biggest breakthrough to date, reported exclusively by Plastics Today, was development of a proprietary technology by Weyerhaeuser and Interfacial Solutions of River Falls, WI. Weyerhaeuser is installing a production capacity of 2,500 pounds per hour to produce the material. Ford will be the first customer.
It was announced in August that The Centre for Research and Innovation in the Bio-Economy (Thunder Bay, ON) is partnering with GreenCore Composites (Toronto) to develop a process that will allow wood fiber to be used in packaging and building applications, such as pallets and various containers. The new mixing process will be added to GreenCore's existing NCell technology to widen the type of products in which glass fiber can be replaced.
There were plenty of proponents for agricultural fiber reinforcement such as hemp, flax, and sisal at JEC in Boston. Efforts to develop those materials are being funded by governments and agricultural groups. "Wood fiber is a superior option with clear advantages over agricultural or glass fibers, so we will be working hard to promote the benefits of this product," Chambonnet says. One factor is the sheer volume of wood material already quickly available as a byproduct of existing forest product operations. Other factors are the seasonality of agricultural fibers and their exposure to drought and price volatility.
Quality variability and development of standards for agricultural fibers are front and center at the Composites Innovation Center (Winnipeg, MN), says Simon Potter, a sector manager.
Source :  Plasticstoday.com