Berlin—As tradition dictated, the first day of the 7th European Bioplastics Conference (Berlin, Germany) duly ended with the announcement of the 2012 winner of the Global Bioplastics Award – only this time with a twist:
This year two winners were named.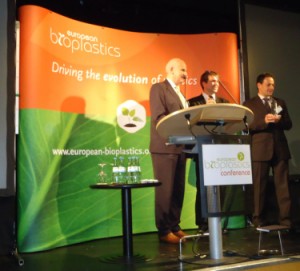 Bioplastics Magazine's Michael Thielen presented the surprising result. "Two finalists with the exact same number of points. We had no choice. We had two winners!" The international panel of five judges selected the Institute for Bioplastics and Biocomposites (IfBB; Hannover, Germany) and Takata Corp. (Japan) from a previously announced shortlist of five nominees.
Both winners were recognized for developments in the automotive field, underlining the appropriateness of the choice of this year's conference's motto: "From Niche to Mainstream." After all, in plastics, it doesn't really get more mainstream than the automotive industry. "Automotive projects are an exciting way to show the huge potential that bioplastics can offer," Thielen said. According to the judges, these projects were examples of good approaches that could lead the way to opening up the possibilities for the use of natural fibers in industry across the board.
Takata received the award for its ongoing project to present the possibilities and limits of using biobased plastics in sensitive automotive applications such as airbags and steering wheels. The company has tested components according to automotive industry specifications, in this way supporting its customers' efforts to define the technical limits of biopolymers. For the company, the nomination as a finalist came as a surprise, and winning the award was "overpowering," said Udo Gaumann, who accepted the award on behalf of Takata. "We see it as recognition for what we are trying to do, and a real encouragement to go forward."
'Some people think these materials will decompose in the rain'
The Institute for Bioplastics and Biocomposites (IfBB) developed a racing car tailgate made with an epoxy resin reinforced with flax fibers as part of the Bioconcept Car project, a project aimed at building as many parts of the car – interior, under-the-hood and body parts – from biobased plastics and biocomposites as possible. The project demonstrates how the various biobased materials can be precisely tailored to provide exactly the properties required for the relevant application.