At the Consumer Electronics Show (CES), SABIC introduced a transparent, conductive polycarbonate (PC) film that represents a completely new class of display materials particularly suited for large format displays with 2.5 and 3D formability.
The film combines SANTE nanoparticle technology from Cima NanoTech over a substrate of SABIC's LEXAN film to achieve sensitive touch screens that are also impact resistant and formable.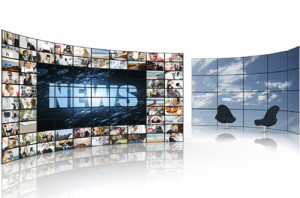 "With the need for information to be constantly at our fingertips, the challenge becomes how to integrate touch screen functionality into spaces where design and aesthetics are also important – such as in an automotive interior or wearable technology – or where extremely large format touch screens are required, such as digital signage or electronic white boards," Alan Tsai, Director, Technology & Innovation for Display & Electronics, noted.
There are alternatives on the market today, such as indium tin oxide (ITO)-based solutions over a glass substrate and conductive polyethylene terephthalate (PET). SABIC's solution has definite advantages over both, according to Tsai.
"First, our transparent, conductive polycarbonate solution is more sensitive, which can bring the response times of small size touchscreens to large format touchscreens. The material is capable of 20ohm/m2 (compared to ITO, which is >100ohm/m2) and in fact, SABIC has created a 55″ demonstration touchscreen display that delivers real time response," he said.
And, when compared to ITO laminates over a glass substrate, Tsai offers that SABIC's transparent, conductive polycarbonate film – available in gauges from 800 micrometers to 125 micrometers – provides considerable weight savings, which can support thin wall designs as well as potentially reduce transportation costs.
Another key advantage is formability: the use of ITO is challenging when considered for flexible touch screens due to its brittle nature. When flexed, ITO will crack, thus preventing the operation of the touchscreen, according to SABIC.
PET-based solutions are also often considered. However, when compared to SABIC's LEXAN film solution, its resistance is relatively high (>150 Ω/m2) and the material exhibits lower conductivity.
PET lacks the rigidity and impact resistance properties of polycarbonate, creating challenges when attempting to achieve large format displays. It, too, exhibits only average formability because PET is not capable of withstanding the higher temperatures needed to thermoform the material into complex designs, a definite advantage of polycarbonate, explained the company.
At the Consumer Electronics Show (CES), CES 2016 was held from January 6-9 in Las Vegas, the US.
Website:                    www.adsalecprj.com