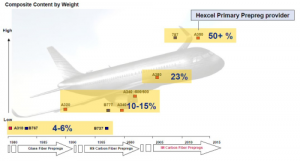 The following feature articles published in 2013 were the most popular with visitors to the Reinforced Plastics website during the year.
1-Hexcel's composites ready to fly on the A350 XWB
The A350 XWB, the first Airbus aircraft to be over 50 wt% composite, made its first flight in June. Hexcel estimates that over $4 million worth of its materials will be on board each plane.
2-Recycling glass fibre reinforced composites – history and progress (Part 1)
This article discusses the issues surrounding the recycling of glass fibre reinforced plastics (GRP) and reviews some of the options available today.
3-COMPOSITES EUROPE 2013: show preview
Reinforced Plastics' preview of the trade show looked at some of the innovations on display.
4-Thermoplastic composite solution for deep oil and gas reserves – Part 1
How thermoplastic composites are offering a potential solution to the challenges of reaching deep water oil and gas reserves.
5-Lamborghini: 30 years of carbon fibre
Reinforced Plastics visited Lamborghini's headquarters in Sant'Agata Bolognese, Italy, to learn about its expertise in carbon fibre composites.