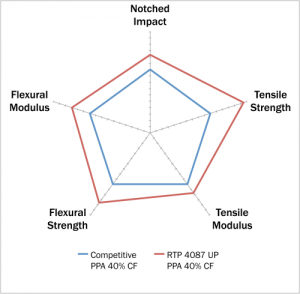 RTP Company has elevated the mechanical properties of its high temperature structural carbon fibre reinforced products.
These include new 'ultra performance' compounds based on carbon fibre reinforced PEEK, PPA, PPS, and PEI resin systems that RTP says create the highest performing thermoplastic products available.
Manufactured using compounding techniques that maximise fibre integrity; Ultra Performance Structural Compounds from RTP Company achieve strength and stiffness properties that are higher than previously available products. Combining the higher mechanical properties and lower densities of carbon fibre with the excellent thermal and chemical resistance provided by using high temperature resin systems allows these injection mouldable thermoplastic materials to close the performance gap between plastics and metals.
Products are available in high temperature resin systems with carbon fibre reinforcement loadings from 20-40% to provide performance options that meet a broad range of requirements for demanding applications in energy, industrial, aerospace, automotive, and medical markets that previously required aluminum, zinc, and magnesium metals.