PET prices in the Southeast Asian market have seen downward pressure from upstream costs and weaker demand, which in part, stems from the Chinese New Year holiday that will start at the end of this month as per the pricing service of ChemOrbis.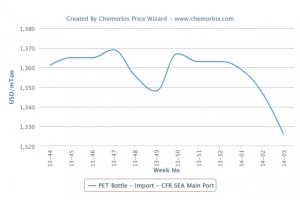 In the upstream markets, Asian spot prices lost $20/ton for MEG, $40/ton for PTA and $90/ton for PX when compared with the levels at the end of December. Meanwhile, NYMEX crude oil futures prices lost $6.36/bbl when compared with the last December assessments, prior to the New Year holiday. In the naphtha market, offers shed around $50/ton on a CFR Japan basis from late December levels.
Taking the slow demand, limited trading activity and lower upstream costs into consideration, import PET prices declined by $20-30/ton on CIF Southeast Asia basis during this past week. A Chinese producer reported cutting their export prices to the Southeast Asian markets, including Vietnam, Malaysia and Indonesia, and noted, "Demand did not revive after the Christmas and New Year holidays and now the Chinese New Year is just around the corner. Buyers generally are sidelined with the hopes of seeing lower prices in the days ahead. We also believe that such expectations may materialize given the poor demand despite producers' negative margins. Plus, the upstream markets are not supportive. Higher PTA operating rates put downward pressure on PTA prices."
Meanwhile, Indonesian players also reported receiving lower import PET prices during this past week. Apart from the lower import PET prices, Indonesian players also were speculating about the antidumping duties which the government is expected to implement on PET imports from China, Taiwan, South Korea and Singapore. However, no official statement was made by the time of publishing. A plastic bottle manufacturer in Indonesia remarked, "We hear that the government is likely to implement anti-dumping duties after the holidays. We see normal end product demand and, if such duties are implemented, we are planning to shift our purchases to non-dutiable Southeast Asian origins."
According to ChemOrbis, a PET bottle manufacturer operating in Vietnam reported receiving steady import PET prices from their regular Thai and South Korean suppliers but added that they are confident about being able to achieve $10-20/ton discounts since demand is not strong at all and Chinese cargoes are offered at more competitive levels in the market.