Frankfurt, Germany: 16th January 2014 – Smart launches its New Fully Automatic Blow Moulding Machine with Auto De-flashing and In-mould Labeling (AD+IML Series). The All New AD + IML Series machine is highly acclaimed for its Low Power Consumption and Simple, User Friendly simple to operation. With Robust design and Higher Efficiency, these machines are suitable for producing HDPE, PP & LDPE containers with Consistency and Good Quality.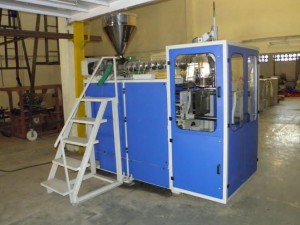 Mr. Shreeram Rane – Managing Director of Smart Machines & Moulds Pvt. Ltd. acknowledges that, the industry needs more innovations and new technology at affordable price. SMART TEAM is confident about the technical capability within the group and the team is focusing on innovative ideas for new developments in Extrusion Blow Moulding Machines.
SMART TEAM emphasises that, "SMART" is the only Blow Moulding Machines manufacturer, that has developed a preferred BRAND in a very short time because of their Compact, Fast, Consistent and Reliable machines and the Excellent After Sales Service support to their customers.
Due to consistent quality output with lower weights and fully automatic operation, SMART AD + IML Series machines have great potential in the local as well as international market. SMART has been following stringent quality norms at all stages of pre-production, production, and post production, in order to deliver the impeccable range of machines at a very cost effective prices.
Auto De-flashing Attachment can De-flash the product automatically online instead of doing it manually. This saves post operation and the necessity of skilled labour for this operation.
In Mould Labeling operation is further reducing the post operation of printing and also makes the product ready for delivery when it comes out of the machine. This not only save operation cost but lost of storage cost for the customer resulting in higher outputs along with saving in cost.
Some of the key features of the new SMART – AD + IML Series Machine are as under:
Fully Automatic & User Friendly Operation.

Auto-Deflashing Attachment helps to eliminate post finishing operation and bottle can be ready for next operation for downstream processing.

In-Mould Labeling Operation reduces Printing Operation and many other related issues and also save storage space – bottles are ready for despatch or filling!!!

Saving in labour, space, time results in higher output with reduction in cost.
Considering the shortage of skilled manpower in today's tough times, incorporation of Auto-Deflashing and In-Mold Labeling together in Extrusion Blow Molding Process will be the key to become cost competitive and efficient for all quality conscious moulders. www.smartmmpl.com
About Smart Machinery
Smart Machineries and Moulds Pvt. Ltd. (SMMPL) is a team of young dynamic professionals with an exposure to Plastic Industry since 1991. Due to the increased demand from overseas customers, we have started our export firm since 2004. Looking into the potential growth in Atomization Plastic Industry SMMPL tied up with European Suppliers like Plastic Systems & Green Box for Dryers, Dehumidifiers, and Chillers in 2007. In the course of further expansion, SMMPL has bought over Extrusion Blow Molding Machine manufacturer "MAZDA Mech Industries". Now SMMPL has its own Manufacturing Unit near Mumbai along with the Trading office in Mumbai.
Since inception, SMMPL has been striving to offer the best technology to the customers worldwide at a very competitive price – that is Value for Money and to become the most reliable partner for the customers worldwide with smart product line.