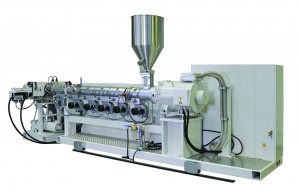 At its stand in Hall 1/1A18, battenfeld-cincinnati features its newest developments at Plastex, Cairo for the second time. These include its new single and twin screw extruder series, as well as solutions for packaging and pelletizing applications and large diameter pipe extrusion up to 2,500 mm.
So far, battenfeld-cincinnati has successfully introduced three new extruder series to the market. The machines are easy to handle and robust, with energy-efficient AC motors for low maintenance:
The solEX series of high-performance extruders for PE-HD and PP pipe extrusion offers outputs from 100 to 2,200 kg/h. The machines provide excellent melt homogeneity and low melt temperatures as well as excellent specific throughput due to high installed screw torques.
twinEX twin screw extruders are highly flexible with a choice of screw geometries for processing customer-specific PVC compounds and have an output range from 125 to 1,700 kg/h.
uniEX is a standard single screw series with a 30 D processing length. It is flexible, extremely space-saving and can be used for a wide range of applications in the medium output range from 50 to 500 kg/h.
Innovations in pipe extrusion for diameters up to 2,500 mm
The modular "greenpipe" concept for energy-efficient pipe extrusion introduced in 2010 offers three possibilities for a substantial reduction in length and energy consumption compared with conventional extrusion lines. Depending on production needs, either an EAC pipe head with "Efficient Air Cooling" or a KryoS pipe head can be used. The tooling helps reduce the required cooling length by 30-45%. In addition, the "greenpipe" downstream concept can reduce energy consumption of the cooling section by almost 50% and cooling water consumption by close to 90%.
battenfeld-cincinnati is the market and technology leader in large-diameter pipe extrusion. The company has successfully placed many lines in the field. Among them is a 2,500 mm line for producing fully walled PO pipes, equipped with a helix 2500 VSI pipe die which provides optimal wall thickness distribution with smooth inner surfaces. battenfeld-cincinnati has also provided a customized haul-off for this line.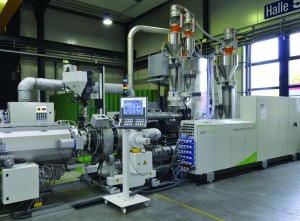 High-speed extruders for sheet extrusion and many years of experience in pelletizing lines
battenfeld-cincinnati is a pioneer of high-speed technology. The company offers a series of single screw extruders with outputs of up to 1,500 kg/h for PP and up to 2,000 kg/h for PS processing. Out-of-line and inline versions are available with downstream components to match. This equipment is particularly suitable for multi-layer sheet applications with functional layers such as bonding adhesives and barrier materials.
battenfeld-cincinnati's machine program for the pelletizing / compounding business has been further improved to meet customers' requirements. Recently, repeat orders for pelletizing lines were received from long-time customers in the UK and Germany, who mention the equipment's reliability and the good technology as reasons for continued cooperation.
About battenfeld-cincinnati:
battenfeld-cincinnati is one of the leading manufacturers of extruders and complete extrusion lines and is organized in three product-oriented Divisions: Infrastructure (pipes), Construction (profiles, PVC-sheet) and Packaging (Non-PVC sheet, pelletizing and calender feeding). With its worldwide sales and service network, battenfeld-cincinnati is close to its customers wherever they are.