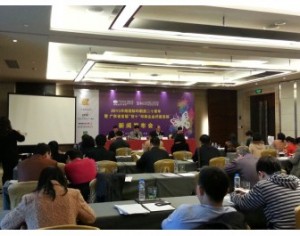 The 20th Printing South China, one of the largest and most influential integrated printing exhibitions in China, will be staged again at China Import & Export Fair Complex, Guangzhou, China on March 4-6, 2013. Sino-Label 2013, which has been developed as the largest and most professional label printing exhibition in China, will be concurrently held.
The 20th Printing South China expects 1,200 exhibitors and 60,000 visitors to gather in 8 exhibition halls which occupy 90,000 sqm. World-renowned exhibitors include MBO, ETERNA, HANS-GRONHI, SHANGHAI CLARITY, SHANGHAI DRAGON, WEIHAI HAMADA, DONGHANG, SHENGDING, DEGANG, HONGMING, CHENGMING, NANJIANG, ZHENGRUN, JINGBAO, FANGBANG, TIANCEN, MASAHIRO, GUANGMING, AOKE, XINCHUAN, FOUNDER, CRON, KENGSENG, HUQIU IMAGING, SCIENCE-ART, RISO, AMSKY, EASTCOM, etc.
To celebrate the 20th Anniversary, the organizers, Administration of Press and Publication of Guangdong Province, China Foreign Trade Centre (Group) and Adsale Exhibition Services Ltd, announced the debut of Guangdong's "Double Top 10" Printers Award which comprises of Guangdong's "Top 10 Most Competitive Printers" and "Top 10 Printers with Integrity". In addition, over a hundred delegations formed by printing, label and packaging industry associations and leading enterprises from various cities and provinces including Guangdong, Fujian, Hunan, Hubei, Jiangxi, Guangxi and Jiangsu, etc. On the other hand, overseas delegation from Indonesia, Malaysia, Vietnam, Hong Kong, Taiwan, India and Russia have confirmed their presence at the show.
Representatives of the organizer and leaders of the industry attended the press conference held on January 22, 2013. They include Mr. Guo Jian-ping, Deputy Director of Printing and Publishing Administration from Administration of Press and Publication of Guangdong Province, Mr. Huang Dong-qiang, Deputy Director of Service Centre of Press & Publication of Guangdong, Mr. Stanley Chu, Chairman of Adsale Exhibition Services Ltd & Honorary Life Chairman of Hong Kong Exhibition & Convention Industry Association (HKECIA), Mr. Wang Fei-yue and Ms. He Jie-ling, Deputy General Managers of China Foreign Trade Guangzhou Exhibition General Corporation, and Mr. Kong Huan-ji, Deputy Secretary General of Guangdong Printing and Copying Industry Association, and so on.
Meanwhile, the concurrent exhibition, "Sino-Label 2013", will expand to 28,000 sqm. 300 renowned label printing exhibitors from 19 countries and regions, such as LINTEC, TAIYO, HAOTIAN, SANKI, ETI, BROTECH, WEIGANG, ZHONGTIAN, LABELLONG, TAIHANG, QIANGDA, DEGUANG, YUPO, FUZHOU ADHESIVE, SOONTOMAX, GUANHAO, LECCO, BST, GEW, LUSTER, SECUTEK, and so on (listed in no particular order), will showcase their state-of-art technology on label printing, rotary printing, digital label printing, label converting and applications. A large variety of the latest label materials and consumables cater for different industry sectors, such as smart label, RFID, anti-counterfeit, materials exclusively for narrow web rotary and flexo printing, will be showcased, too.
The organizers also surprise the visitors with more privileges by throwing a monthly "Anniversary Surprise Gift Medley Programme" on the official Facebook. Not only will pre-registered visitors be given with free gifts, show catalogues, and VIP services, visitors completed pre-registration before February 15, 2013 will also be enrolled to the gift medley programme and get to win an iPad Mini.