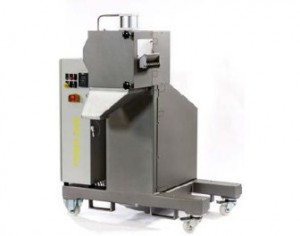 Automatik Plastics Machinery, a subsidiary of maag and manufacturer of pelletizing systems, will showcase PRIMO 200E, the newsingle-side mounted dry-cut strand pelletizer with an extra-large cutting width of 200mm, at Interplastika that held from 28 Jan to 2 Feb in Moscow.
PRIMO 200E has unique cutting geometry with the shortest unguided length between the feed rolls and the cut. This geometry enables optimum straight cutting of both hard and very soft plastic strands. It is particularly suitable for compounding of thermoplastics, for functional and additive masterbatch production and for the production of color concentrates up to a line throughput rate of 1.5 tonnes per hour. According to the company, highlights of the PRIMO 200E are its cutting tool sets for hard, abrasive and soft, flexible plastics.
The pellet dimensions can be quickly changed by means of an optional automatic pellet length adjuster. This is done using a second drive motor for the feed mechanism with an integrated speed control. When processing abrasive products and at high production temperatures, the Primo 200E can optionally also be equipped with a separately driven, highly wear-resistant metal feed roll instead of the standard elastomer feed roll. In addition, the new machine is easy to clean, features a low-deposit cutting chamber and enables short retooling times, and the cutting and tool changing process is likewise quick and easy, making it suitable for the efficient production of micro-quantities of color masterbatches and concentrates.
The feed geometry is designed without major deflections, so the plastic strands are not subjected to pre-tensioning prior to cutting. Even highly fragile polymers such as polystyrene or highly filled masterbatches can be pelletized in high qualities, nearly without longs or dust, the company adds.