Spot ethylene and propylene prices moved higher in Europe after the August monomer contracts settled with increases last week as per the pricing service of ChemOrbis. The higher monomer settlements were attributed to firmer upstream costs. Spot naphtha prices on a CIF NWE basis climbed around $35-40/ton during July in line with strong energy markets and are up by $10/ton week over week.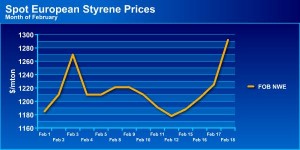 Crude oil futures on the NYMEX advanced 2.1% over the past week to be traded close to the $107/barrel threshold on August 2. NYMEX crude futures rose 8.8% in July, the largest monthly gain recorded since August 2012. Brent crude oil for September delivery moved above the $110/ton threshold for the first time since April 3 during intraday trading on August 2 after posting a total gain of 5.4% in July.
Tracking firm upstream markets, spot propylene prices on an FD NWE basis surged by around €60/ton over the past week, an increase similar to the hike of €50/ton that passed on the August propylene settlements. Spot prices were pushed up by limited availability as sellers held onto their stocks while demand was steady.
According to ChemOrbis, in the ethylene market, spot prices also climbed around €40/ton on the week, matching the increase on the new ethylene settlements. Market sources commented that the higher settlement was stimulated by poor margins, which were squeezed by higher naphtha costs. In addition, tight LDPE supply in Europe was also cited as another reason behind higher ethylene prices.