According to data from ChemOrbis Price Index, import homo-PP prices in China have gained a premium over local prices as sentiment has been moving in divergent directions in the import market relative to the domestic market.
Domestic homo-PP prices on an ex-warehouse China basis reached their highest premium relative to imports over the past year at around $190-210/ton from late December 2014 to mid-January 2015. Domestic prices have gradually lost their premium in the following weeks, with particularly steep declines occurring in March after the market returned from the Chinese New Year holidays. Currently, local PP prices are trading at a discount of around $45-50/ton relative to import prices on a CFR China basis, according to ChemOrbis Price Index. Local prices had last traded at a discount to import prices in February 2013.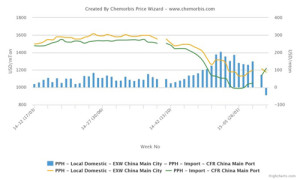 Players attributed the loss of the premium for domestic materials to weaker sentiment in the local market relative to the import market. "Local PP prices have retreated as demand has not been all that encouraging after the holidays while supply levels are sufficient thanks to the large number of coal based capacities that started up last year," a distributor based in Hangzhou commented. A source from a domestic producer stated, "We had to step back by around CNY300/ton ($49/ton) from the deals we achieved last week as demand does not seem to be strong enough to support the price increases seen in the first few days after the holidays. More coal based capacities are due to start up this year while we hear that there are also some import cargoes set to reach the ports later this month. Therefore, we feel that any limitation in supply will prove to be temporary."
Players active in China's import market, meanwhile, are generally optimistic about their prospects, citing firm upstream costs and regional supply tightness as support for their bullish outlook. "Prices are up around $70-100/ton since the end of the holidays and sellers are said to be aiming for some additional increases. Major producers from India, South Korea and the Middle East are offering limited allocations due to supply limitations and South Korea could face ongoing tightness as that country is about to enter a period of heavy cracker maintenance," a trader based in Shanghai stated. According to data from ChemOrbis Import Statistics, South Korea, India and Middle Eastern countries accounted for four of the top six homo-PP exporting countries to China in 2014 as well as 57% of the country's total imports.