Two-component polymer gasket RAKU-PUR Speed and compact robot cell DC-RS250 at MECSPE 2015
Grafenberg, 03/12/2015. The RAMPF Group will be showcasing its innovative products and solutions for gasketing,encapsulating, and bonding at the MECSPE 2015 trade fair in Parma, Italy,from March 26th – 28th. The focus is on the fast curing two component polymer gasket RAKU-PUR Speed and the compact robot cell DC-RS250, which guarantee speed and precision – even in the most confined spaces.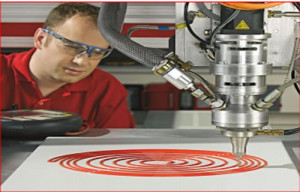 Time and space are limited – this is true for many industrial applications within complex production systems.With RAKU-PUR Speed and the DC-RS250 from RAMPF, both time to cure and required machine space are optimized. The fast curing polymer gasket is freely available within just 150 seconds, and the compact robot cell guarantees speed and precision with only very small space requirement. Overall, the productivity of the application process is significantly increased.
Visitors of the MECSPE 2015 in Parma can see this for themselves at the RAMPF booth – Hall 6, Booth F24 –, where the DC-RS250 will be dispensing RAKU-PUR Speed on site.
RAKU-PUR Speed: minimum curing section, maximum savings
The two-component polymer gasket RAKU-PUR Speed is developed by RAMPF Polymer Solutions, Germany, a leading manufacturer of reactive resin systems based on polyurethane, epoxy, and silicone.The gasket has a slow start-up time to enable seamless application, the material then cures at room temperature in just seconds. Material features include low water absorption and high mechanical strength for adhesion to a wide range of materials, from plastics to painted steel. Perfect for lean manufacturing, the use of this system frees up production areas and reduces investment by being packageready after travelling a short conveyor distance of just two to three meters.
DC-RS250: maximum speed and precision, minimum space requirement
The new compact robot cell DC-RS250 from RAMPF Production Systems, Germany, a leading manufacturer of low-pressure mixing and dispensing systems and renowned automation specialist, combines rapid processing, high flexibility, and the ability to accommodate nearly any space requirement. Outfitted with the newest KUKA robot in the small-robot segment, the KR AGILUS, the cell offers full functionality for components of up to 200 x 250 x 80 mm, even under tightest space restrictions. The processing of highly abrasive systems like thermal paste is also effortless. All of this makes the system perfect for lean manufacturing needs.
RAMPF Production Systems will be informing visitors about its encompassing know-how in the planning and construction of turnkey lines for bonding, sealing, encapsulating, and foaming.
The company's core competence in mixing and dispensing technology is being increasingly supplemented by other elements such as extended automation and conveying systems for internal logistics,additional assembly and joining technology, as well as logistic and quality assurance solutions.
Workshops on gasketing, encapsulating, and bonding
If you would like to find out more about reactive resins and their processing technology, RAMPF and its Italian partner Cabelpiù are offering workshops on gasketing, encapsulating, and bonding at the RAMPF booth on all three days of MECSPE 2015.
Website: www.rampf-gruppe.de