New SONGXTEND™ stabilizer solutions for automotive applications with anti-fogging (anti-FOG) and low volatile organic compounds (VOC) properties
Supporting trend towards plastic materials to reduce vehicle weight, improve recyclability and lower CO2 emissions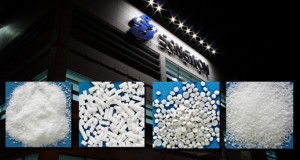 Ulsan, Korea – April 2, 2014 – Songwon Industrial Group (www.songwon.com), the second largest manufacturer of polymer stabilizers in the world, will introduce its SONGXTEND™ stabilizer solutions tailored to the needs of the automotive industry at the VDI Plastics in Automotive Engineering Congress in Mannheim, Germany (April 2-3, 2014).
The SONGXTEND™ stabilizer solutions offer benefits to support automotive manufacturers in their use of polyolefin materials in order to save weight and enhance their green credentials. In particular, the stabilizers SONGXTEND™ 2121, SONGXTEND™ 2122 and SONGXTEND™ 2123 meet thermal stability requirements while addressing fogging and odor issues in car interiors. They reduce VOC emissions and improve organoleptic properties by eliminating or reducing undesirable odors:
SONGXTEND™ 2121 stabilizer contains 60% less sulphur while still maintaining high thermal stability, meeting or exceeding current targets provided by state of the art stabilization packages
SONGXTEND™ 2122 stabilizer offers an optimized cost/performance balance while having 30% less sulphur content as well as maintaining the thermal stability levels of SONGXTEND™ 2121
SONGXTEND™ 2123 stabilizer is 100% sulphur free to reduce possible odor distraction in car interiors to the absolute minimum combined with a heat stability performance that meets the targets of car manufacturers
Thomas Schmutz, Songwon's Global Technical Service Director, states: "The new SONGXTEND™ stabilizer solutions for automotive applications overcome the performance limitations of classic stabilization systems. In doing so they enable manufacturers and OEMs to respond successfully to the increasingly stringent industry standards regarding VOC- and FOG-related deposits on interior windscreens. Their introduction demonstrates our on-going commitment to working closely with our customers to understand their needs and support them in meeting critical targets. We are pleased to be at the VDI once again, to share this innovation along with further automotive-related developments with the industry."
Songwon offers an extensive portfolio of stabilizers adding strength and durability to polymers used in the automotive industry. These include SONGNOX® Antioxidants and SONGNOX® One Pack Systems for easier dosage and handling.
Songwon's partnership with Sabo S.p.A., the world's second biggest supplier of monomeric and polymeric hindered amine light stabilizers (HALS), will bring additional light stabilizer solutions to the market.
VDI visitors can find out more about Songwon's tailor-made solutions for the automotive segment at the Congress Center Rosengarten, Rosengartenplatz 2, 68161 Mannheim at Booth 89a.
Songwon Industrial Group
Doris Peters
Director Marketing and Communications
Walzmühlestrasse 48
CH-8500 Frauenfeld
Switzerland
Tel: +41 52 635 0027
Fax: +41 52 635 0001
E-mail: [email protected]