BASF presented a range of insulation solutions and the energy-efficient Passive House concept at the 10th International Conference on Green and Energy-Efficient Building & Technologies and Products Expo (IGEBC).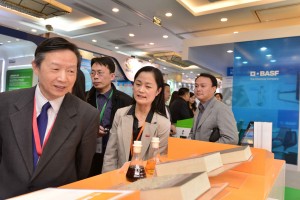 At the event, LUWOGE consult GmbH, a real estate subsidiary specialized in providing consultancy on energy-efficient, sustainable modernization and new construction under BASF, presented the Passive House Concept. It is an integrated solution for efficiency building originating from Europe.
One example of BASF's offerings being the Master Builders Solutions, which contain a portfolio of more than 35,000 construction products under one single brand.
In addition, BASF showcased the following raw materials and solutions at the show:
– Elasturan window solution for aluminum window profiles to keep the indoor temperature at a comfortable level with its insulation performance;
– Finestone EIFS (external insulation and finishing systems), including Finestone STYRO-E, Finestone Neo and Finestone Rock Wool systems, Neopor foams, Elastospray CH polyurethane foam and Elastopic CH PIR lamination board as well as other insulation solutions; and
– Basotect that comes with good sound absorption capacity, Ucrete and MasterTop high performance floor systems as well as inge water ultrafiltration technology.
Dr Zheng Daqing, Senior Vice President, Business and Market Development, Greater China, BASF, says, "BASF is committed to promoting sustainable construction in China. With our advanced construction insulation products and solutions for the construction industry plus extensive local implementation, we are well-positioned to support the central government's goal of emission reduction and sustainable development."
IGEBC 2014 was held in Beijing, China from March 28-30.